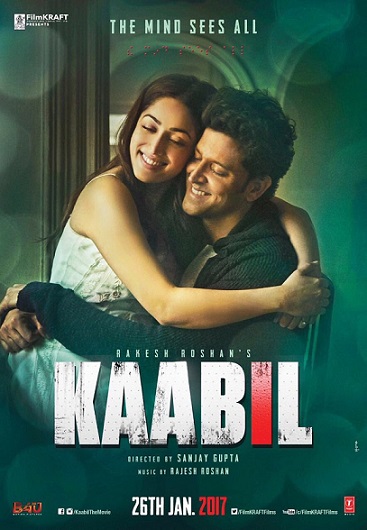 Film Review: Kaabil
Date: 25 January 2017
Producer: Film Kraft
Director: Sanjay Gupta
Cast: Hrithik Roshan, Yaami Gautam, Ronnit Roy
Rating: 4 stars
Rohan Bhatnagar is a favorite of many in the colony he lives; they admire his confidence to live life against adversities. He makes his own breakfast and travels to the studio where he works as a mimic artiste. A common friend sends him and Supriya, a pianist, on a blind date. Both are very certain that they don't want to get married but they continue to meet for shopping and dinners and eventually get married.
The film is vibrant and racy till the tragedy occurs and post interval the plot concentrates on vendetta. Intelligently scripted and sensitively shot the unusual love story is a reflection of a thoughtless society, corrupt police and a faulted legislative system. It is both, a story of abuse and a story of triumph.
Director Sanjay Gupta popular for his dark, crime thrillers like Kaante, Shootout at Wadala and recently Jazbaa packages  yet another thriller this time a bright and positive one combined with with a social cause. Hrithik Roshan has in his17 long year career played an emperor/ Jodha Akbar a don/ Dhoom 2 a fugitive/ Fiza and a superman/ Krrish 3. Three of his films portrayed him battling with disability. Koi Mil Gaya was about the mentally challenged, Guzaarish about the physically challenged and Kaabil is about the visually impaired!!
What works in favor of the film is the tight screenplay, dazzling dialogues and Rajesh Roshan's haunting music. What does not work is the predictable second half and the excessive violence.  The supporting cast comprising police inspector Chaubey and his assistant make an impact. So do Rohit and Ronit Roy as villains, Yaami Gautam is charming but the film ultimately belongs to only Hrithik Roshan. 
Watch him guard his every step before he climbs and walks, watch him count, measure the levels before he gets on the floor. Your heart misses a beat as he wades through city traffic and a crowded mall. It is not how he faces crisis but how he absorbs the persona of Rohan Bhatnagar, the ease with which he folds his stick, sips his coffee turns, reacts to sound, senses peril and yes makes love to his wife, is a performance of details.
Watch Kaabil for the actor of details, Hrithik Roshan and for the over powering message that no matter what the opposition one must not lose courage.
@bhawanasomaaya