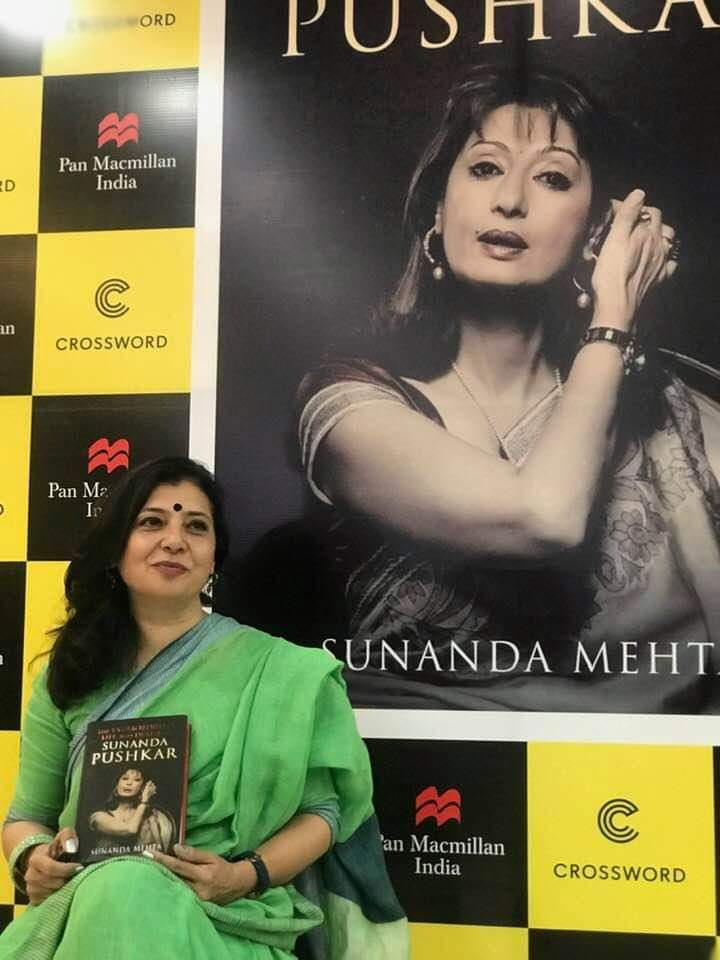 Just finished reading Sunanda Pushkar and reproducing excerpt of the book with author Sunanda Mehta's permission.
AT AROUND 2:30 a.m., on the morning of 17 January 2014, an exhausted Sunanda seemed to calm down a little. She had chain-smoked through the night until that point.
At around 4:10 a.m. she sent a message to journalist Prema Sridevi, who was with Times Now at the time, asking her to come and meet Sunanda immediately. She had called Prema the previous day as well, saying she wanted to talk to the press and blow the lid off IPL. Prema, in fact, had spent the better part of the day at The Leela trying to get an interview with Sunanda, but could not get past Narayan.
At 4:15 a.m., Sunanda sent another message, this time to Barkha Dutt, saying she wanted to give her an interview that very day. She seemed to have her plan for the day chalked out. The next person she called was Shiv. When Shiv answered, Sunanda immediately picked up from where they had left off. Their arguments over his lifestyle and 'lack of seriousness in life' continued. Shiv, who had put aside his resentment by now, asked his mother to control her anger and stop the public show of her personal crisis with Tharoor. The argument went on till about 4:30 a.m.
Sunanda had relaxed for a bit after the call with her son, as no matter the subject of their conversation, his voice always brought her some emotional respite.
It was around 6:30 a.m. when Sunanda finally fell asleep, after asking Narayan to give her a foot massage. Tharoor left for the AICC meeting at around the same time. Just before falling asleep, though, she instructed Narayan to make sure he got one of her favourite dresses from the dry cleaners ready for her to wear. She told him it was for a meeting in the evening. Narayan then left the suite, and Bajrangi, the driver, took over the watch. Narayan returned only at around 4 p.m., with R. K. Sharma, Tharoor's other personal secretary.
That morning, Rahul Kanwal, who was supposed to anchor from the Congress convention at the Talkatora stadium, where Rahul Gandhi was scheduled to make a big speech, woke up early to find a series of missed calls from Sunanda. The calls were made past 1 a.m., when his phone was on silent mode and he was fast asleep. Sunanda texted to say that she had watched the show at midnight and that she was very upset with what Mehr had said. She said Mehr had ruined her life and that Sunanda wouldn't allow her to get away with it. And she wanted to do the interview they had spoken about.
The Rahul Gandhi speech was slated to be a decisive one for Congress, which was pressing for Gandhi to don the mantle of the party's prime-ministerial candidate. Much was riding on the success of the meet and the speech. The Sunanda interview would have to wait, Kanwal thought.
Prema Sridevi too saw the message Sunanda had sent her only when she woke up at 7 a.m. on 17 January. She called Sunanda at around 9 a.m., but there was no reply, so she called Narayan and asked to be connected to Sunanda. He told her she was sleeping and that she had been awake all night without having eaten much either.
Another call that went unanswered on Sunanda's phone, amongst many that morning was from Zarine Khan. She had been closely following the messy drama of the past two days, and had first called up Shashi around mid-morning on the 17th. Zarine could not be a silent bystander anymore. She had great regard for Shashi and was pained to think about what he must have been going through. Zarine was very friendly with Sunanda, but was not blind to her belligerent behaviour of the past few days. Sunanda was amongst the warmest and most loving persons she knew, but Zarine had perceived that there was another distinct side to her too. Sunanda could imagine the most bizzare of situations and say outrageous things that one knew could never be true, just to give the impression that she was very important. She would often talk about how one day she would be the prime minister of India. And while she was insanely possessive of Shashi, the last few days she had been bad-mouthing him in front of all her friends, about how he was a miser and she had to spend all her money to run the household. It was even more disturbing to Zarine because Shashi, through all this, remained the gentleman he was and never retaliated with any remarks that would show Sunanda down. She decided it was time she reached out to Shashi and offered some support. She decided to invite them both over to her place so that they could for a few hours escape the controversies brewing in the capital.
When Zarine put forward her invitation to Tharoor, he told her that he was with Rahul Gandhi at the moment at the AICC meet and it would be better if she called up Sunanda instead. So Zarine called Sunanda next, at around 11.30 a.m., only to have the call go unanswered. She hung up, thinking she would try another time.
Meanwhile, at the Talkatora stadium, Rahul Kanwal bumped into Tharoor, who was clearly upset and told him he should not have done his interview with Mehr. Tharoor revealed to Rahul how Sunanda had fought with him over it. Rahul in turn invited Tharoor to join him on Centre Stage that evening. They agreed to meet at 9.30 p.m before Tharoor went his way.
On the way back from Talkatora, Rahul thought he would stop over at The Leela where Sunanda was staying and record his interview with her. He called her a couple of times but got no answer. So he drove back to his studio in Noida.
Later that evening, Sunanda's friend Sanjay Dewan reached the hotel. It was around 5 p.m. Sanjay was to leave for Mumbai later that day. A day earlier he had texted Tharoor – whom he had known well since 2006 – to ask how things were.
Tharoor had responded late in the night. The next day, when he again texted Tharoor on his way to the airport to enquire about Sunanda, Tharoor requested him to stay on in Delhi as he said their scraps were getting worse. He told Sanjay that he was at the very important AICC general session and asked him intervene with Sunanda on his behalf, to try and calm her down as she was not well and not eating properly. Sanjay cancelled his Mumbai trip and texted the Tharoors' domestic help Narayan to ask about Sunanda's health. Each time he called, Narayan told him that Sunanda was sleeping. Around 4:30 p.m., Narayan called back to say that Sunanda should be up soon and that he could come to the hotel if he wanted to.
@bhawanasomaaaya