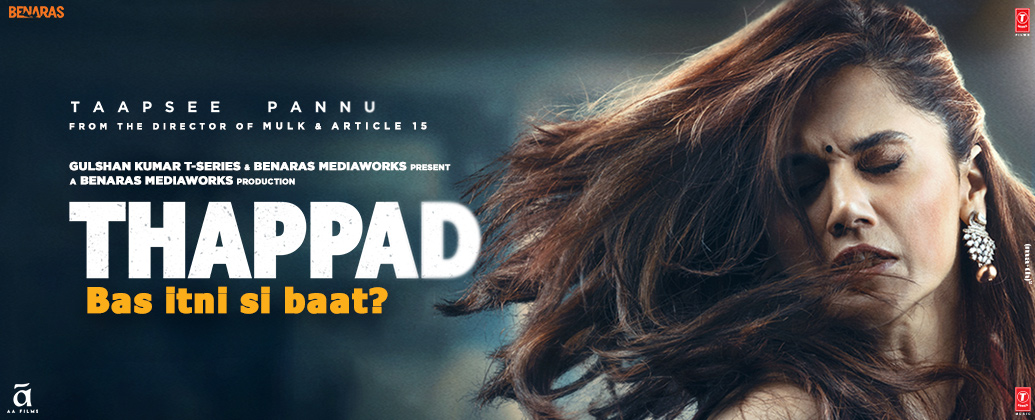 Changing Mindset
Film: Thappad
Release: 28.02.2019
Writer: Anubhav Sinha, Mrunmayee Lagoo
Director: Anubhav Sinha
Cast: Tapsee Pannu, Pavail Gulati, Kumud Mishra, Ratna Pathak Shah, Tanvi Azmi, Dia Mirza
Ratings: 4 stars
Every time there is marital abuse, the husband invariably has a justification for his action and this has continued for centuries. Lord Ram had justification for making Sita walk the fire path. He was the emperor and could not let down his subjects. In another century, king Dharamraj had justification for summoning Draupadi into the court. He was committed to Duryodhan and therefore helpless. Corporate executive Vikram/ Pavail Gulati in Anubhav Sinha written-directed Thappad has justification for slapping his wife Amrita/ Tapsee Pannu, he is under pressure, stressed out, angry and frustrated!
The question is does Amrita have the right to interfere in her husband's professional altercation, was it appropriate for her to have trespassed at that moment or should Amrita have waited till the tempers cooled down? Is logic possible in moment of rage, probably not, besides is Amrita in any way disconnected from any dream or dilemma of Vikram? I don't think so and in which case, how can Amrita keep out of the brewing storm? In a marital relationship who determines the boundary lines of private space and when does this change?
Ammu/Amrita represents the archetypal homemaker whose follies are familiar, she is devoted and she is efficient and most important, she is soaked in the fragrance of her husband's dreams.
Mrunmayee Lagoo and Anubhav Sinha written Thappad tells the story of an impulsive slap and the varied reactions it triggers among people around the protagonist couple – Amrita's parents/ Kumud Mishra- Ratna Pathak Shah are devastated, Vikram's family, colleagues are concerned, their advocates/ Ram Kapoor and Sarao reflective, the house maid/ Ohlyan discovers she is not the only victim and Amrita's 13-year-old students asks her mother/ Diya Mirza if her dad has ever hit her?
Disturbing questions, domestic abuse is rampant across class and age and we have over the decades watched innumerable films addressing the issue but Thappad is the most significant because it emphasizes on woman's need for self-respect and even a single slap is unpardonable!
Superbly narrated with effective dialogues, believable characterizations, touching interpersonal relationships, soothing music, lyrics, real sets and sparkling performances from the ensemble cast there is not a false chord in the film where the message is the hero that to change society we need to change perspective to marriage, alter as individuals, as family because in the end it is about happiness, about self-respect.
When Lord Ram sends Sita to exile for the second time, it is Ram's mother Kaushalya who breaks down and post Draupadi's disrobing in the court it is Duryodhan's mother Gandhari who is outraged by the audacity. In Anubhav Sinha's Thappad too it is Vikram's mother/ Tanve Azmi who bids an emotional farewell to her daughter-in-law, a terrific scene superbly performed by both Tapsee Pannu and Tanve Azmi that leaves you teary eyed.
Thappad is not a film that can be restricted to gender boundaries, it is a mindset that needs to be changed. In the 2016 released Pink Tapsee Pannu said 'No is no' and in 2020 Tapasee says 'Not even one slap will be pardoned'.
Director Anubhav Sinha take a bow for three significant films in a row 2018/Mulk 2019/Article 15 and 2020/Thappad. Congratulations to the entire team of Thappad, a must watch film for all men/ women/ young/ old even kids and I'm tempted to add one slap for those who don't watch it!!
I rate the courageous Thappad with 4 stars.
Bhawana Somaaya