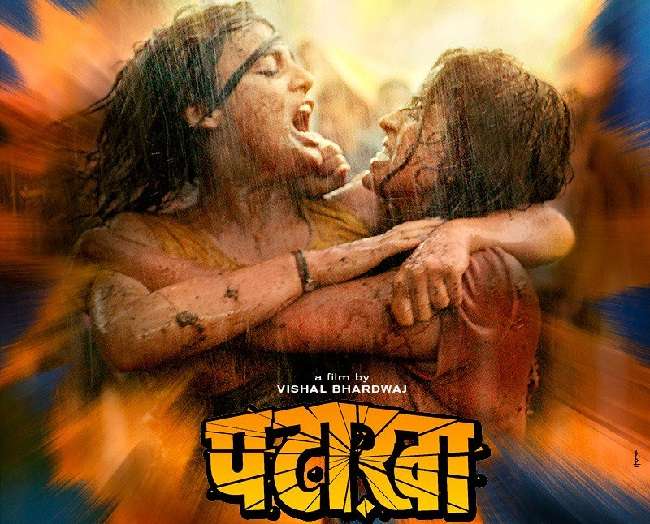 Film: Pataakha
Date: 28.09.2018
Director: Vishal Bharadwaj
Cast: Sanya malhotra, Radhika Madan, Sunil Grover, Vijay Raaz
Rekha Bharadwaj produced and Vishal Bharadwaj directed Pataakha is based on writer Charan Singh Pathik's short story Do Behnein, about two sisters who look for a trigger to get violent with each other.
The village thrives on their wrestling matches at school and home because it is the only mode of entertainment for all. Father/ Vijay Raaz cannot fathom why Barki/ Radhika Madan and Chutki/ Sanya Malhotra erupt like a volcano at the mere sight of each other. Nor can the girls but both fantasize that marriage and separation from each other will bring paradise but does that happen?
The negatives of the film are one that the story does not appeal in present times. The duration appears longer than two hours. Then the frequent wrestling matches after a point become overbearing.
There's not a single soft moment or a glimpse of affection between the siblings in their growing years and no insight from the writer for their exaggerated animosity, as a result when both suffer psychological disorders post separation it is highly unconvincing.
Even the metaphor of the warring nations India and Pakistan according to me is highly misplaced.
The positives are the performances. Vijay Raaz as the single father of the quarreling girls wins your heart with a restrained performance. As the supporter of the family, Sunil Grover is thoroughly entertaining. Radhika Madan makes a competent debut as the older sister obsessed with dairy but the best performance comes from the Danagal girl -Saina Malhotra who shines as Chutki through all her phases!
Two thoughts come to your mind when you emerge from the cinema hall. One, not all short stories have the potential to make a feature and two, Sadat Manto Hasan was right, Literature has to change with time.
I rate Pataakha with 2 stars.
Bhawana Somaaaya