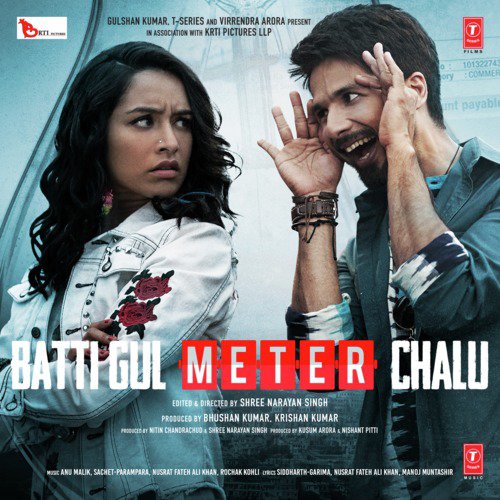 Film: Batti Gul Meter Chalu
Date: 21.09.2018
Director: Shree Narayan Singh
Writer: Vipul Rawal-Sidhartha Singh-Garima Wahal
Cast: Shahid Kapoor, Shraddha Kapoor, Divyendu Sharma, Yami Gautam
Music: Anu Malik, Rochak Kohli
There are many ways to describe director Shree Narayan's Batti Gul Meter Chalu.
You can call it a love story, a story of friendship or a story of a movement supported by the entire city.
Set in the beauteous Uttarakhand BGMC addresses the issue of fluctuating electricity and inflated bills and how the common man struggles with these pressures without help from the establishment.
SK (Shahid Kapoor), Nauti (Shraddha Kapoor) and Tripathi (Divyendu Sharma) are childhood friends who make an effort to spend quality time together despite their individual careers.
SK is a lawyer who has short cuts for every problem. Nauti is a local designer who runs her own shop while Tripathi has recently invested in a Printing Press.
The first half of the film is about their bonding, adventures, some challenges and some mishaps. Tripathi is worried sick when he gets an electricity bill of 1.5 lakhs and by the time he complains about it the amount escalates to 54 lakhs in the following months.
The story really begins in the second half when the usually laid back SK decides to fight against SPTL, a privatized electricity company and becomes a hero.
The positives are one, the locations – the quint city perched on the hills amidst nature. Two, the issue of availing electricity to the remotest region and finally the message that it's important to fight a cause, not important that you win!
Without attempting to the film is gender sensitive.  So we have Sushmita Mukherji as the cricket fan judge and Yami Gautam as the public prosecutor.
Shraddha Kapoor lives with two single women (mother and grandmother) without restrictions and makes her decisions at home/ work and in love.
The negatives: are primarily the length (close to three hours), the pace (takes too long to come to the point); the sutradhars are annoyingly invasive and a waste of screen time and the climax unfortunately overstated.
It is unconvincing that friendship can suddenly turn obsessive and some questions posed by Shahid to Shradha remain unanswered.
The film is a big break for Dwivedi Sharma and a new image for Shraddha Kapoor who pairs with Shahid for the second time. All of them speak the dialect effortlessly. Yami Gautam who played a victim in her last film Kabil plays a prosecutor but the film finally belongs to Shahid Kapoor- who is the first rate in his comic timing and restrained in the emotional moments, there are many shades to the character and Shahid has you addicted to SK!!
Director Shree Narayaṇ last time combined a social message with entertainment called Toilet Ek Prem Katha. This time he addresses another relevant issue – electricity.
Batti Gul Meter Chalu is long, a tad preachy but it is worth it for Shahid Kapoor.
I rate Batti Gul Meter Chalu with 3 stars out of which half star is reserved only for Shahid Kapoor.
Bhawana Somaaya