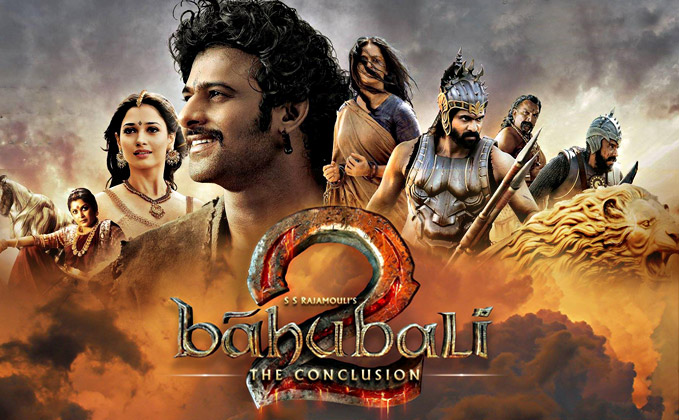 Film Review: Baahubali 2
Date: 28 April 2017
Director: SS Rajamouli
Writer: Vijayendra Prasad/ story Rajamouli/ screenplay
Cast: Prabhas, Rana Daggubatti, Anushka Shetty, Ramya Krishnan
Rating: 4 stars.
Baahubali ended post the flashback when a tearful Kattappa reveals that he is responsible for his master Mahendra Baahubali's death.
The sequel Baahubali 2 begins with the backstory when queen mother Sivagami/ Ramya Krishnan sends foster son prince Mahendra/ Prabhas to travel the kingdom and get acquainted with his subjects so he is able to fulfill his duties when coronated as the king.
Mahendra meets princess Devsena/ Anushka Shetty and loses his heart to her and Devsena accompanies her beloved to his empire Mahishmati reassured that all will be well.
But a lot has changed in the interim and a misled Sivagami is affronted when Mahendra challenges her decision and orders the newlyweds out of the palace. What follows is the regular palace politics when blood kills blood and the mayhem continues till good vanquishes evil and justice is restored!
The positive of the film is the scale and the magnitude of the production, the extraordinary sets, the costumes and the casting. Seductively shot by Senthil Kumar, the film excels in every department, particularly the imaginative action and creative design.
Very often, films made on a mammoth scale are very detailed but lose on an important ingredient, storytelling. Not this time. Prasad and Rajamouli make sure to punch all the right buttons to keep you glued to the narrative and at times, even make you emotional.
Baahubali 2 is better than Baahubali. It is large, lavish and dramatic. There are magnificent palaces, galloping horses, screeching elephants and a sea of people engaged in either sword fights or just cheering their leader.
Baahubali 2 is a visual experience you cannot miss! If you like stories of kings and queens if you like stories of valor and courage, fairy tale romances where butterflies flutter across swan-like boats and white stallion chase the clouds, then this one is surely for you!
All the performances are competent particularly Prabhas Daggubati but the two that stay with you are the women, Ramya Krishnan as the powerful queen mother Sivagmi and Anushka Shetty as the fiery Devsena.
So is there nothing wrong with the film, of course, there is, it is too long and the background score is cacophonic but the positives outweigh the negative.
I rate Baahubali 2 with 4 stars.
Follow me on Facebook, Twitter, and Instagram  @bhawanasomaaya