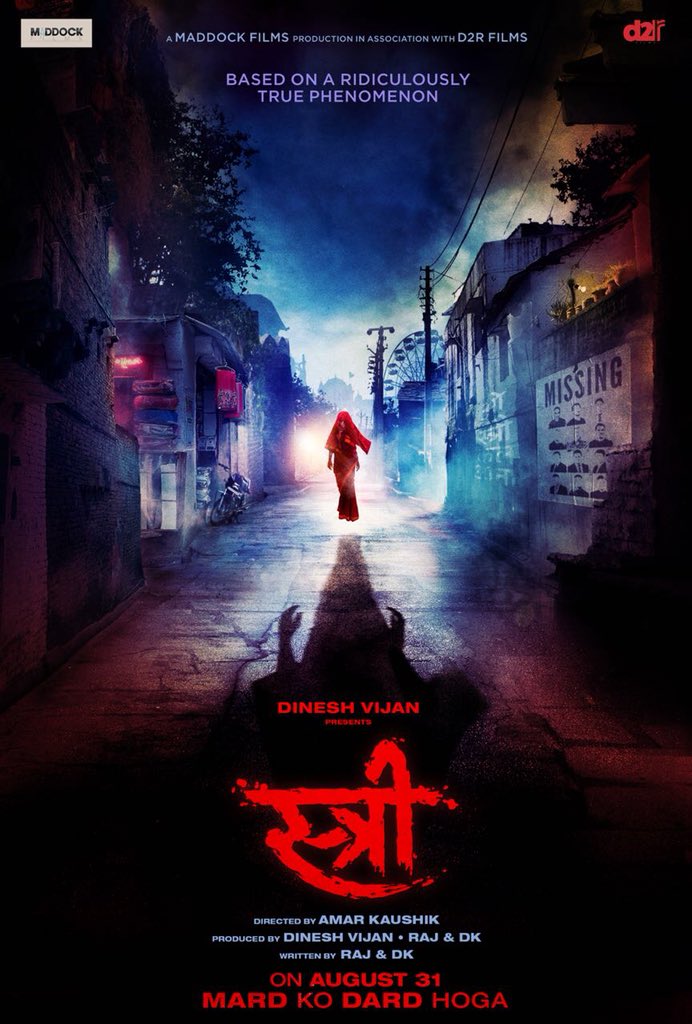 Film: Stree
Date: 31 August 2018
Producer: Dinesh Vijan
Director: Amar Kaushik
Cast: Rajkumar Rao, Shraddha Kapoor, Pankaj Tripathi, Aparshakti Khurana
Music: Ketan Sidha
In 1961 legendary filmmaker V Shantaram told us the story of an empowered woman in his popular film titled Stree.
In 2018 Amar Kaushik tells us the story of a possessed woman inspired from a folk legend in Andhra Pradesh about a bridal ghost who roams every night in search of her husband.
Set in a small town Chanderi known for celebrating the annual puja over four nights, the residents paint 'O Stree kal aana' outside their homes to ward off the evil spirit.
Vickey/ Rajkumar Rao is a gifted tailor who encounters a  beautiful mystery girl/ Shradha Kapoor who appears/disappears at her will and asks for strange gifts ( tail of a lizard, hair of a cat) and drives him to remote locations for a date.
The good news is that the film is not as scary as one had anticipated; in fact, the trailer is more terrifying than the film. The screenplay combines fear with humor to present a new genre called Horror Comedy.
There are hilarious moments in the film: When a wife leaves for the temple at night, the fearful husband pleads for her to come back soon and locks himself in the house. Another moment when men move around streets draped in saris because they fear being airlifted by the ghost…
The best moment is where the four friends sit down to analyze the ghost and her characteristics and sum her up as literate but low IQ, obedient but tormented soul.
The narrative breaks many stereotypes: One, those young boys don't pursue their father's profession, Vicky does and excels!  Two, that small town dads don't discuss the birds and the bees with their sons. Vicky's dad does and elaborately. Three, men are fearless and court dangers, not in Chanderi definitely!
The main problem with the film is that a lot is left unexplained. Till the end of the film Rajkumar Rao is unable to figure out Shraddha Kapoor's name/ number/ address. He does not ask her why she deserted him on a remote location in the middle of the night and most importantly, the climax is too simplistic. The hero and his friends are like Enid Blyton's characters we read in childhood who join the dots and resolve the mystery.
Must you watch Stree? Yes, for the engaging characters, the crackling dialogues and the supporting performances particularly Pankaj Tripathi and Aparshakti Khurana. Shradh Kapoor as the mystery girl is intriguing – she is the new age Wo Kaun Thi.
And most important for Rajkumar Rao – whether he is speedily churning out skirt on a sewing machine, assuming measurements of his female customers or interacting with his boisterous friends Rao is as always first rate!
I rate the not so scary Stree with 3 stars.
Bhawana Somaaya