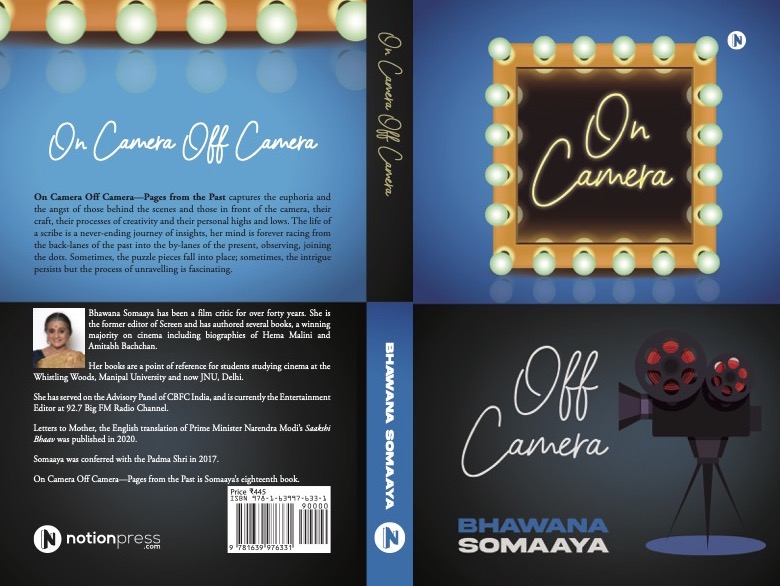 On Camera Off camera 
Published by Notion Press
Released: 2021
Price: 445/-
On Camera Off Camera—Pages from the Past captures the euphoria and the angst of those behind the scenes and those in front of the camera, their craft, their processes of creativity, and their personal highs and lows.
So many stories…milestones…so many memories; the life of a scribe is a never-ending journey of insights, her mind is forever racing from the back lanes of the past into the by lanes of the present, forever observing and joining the dots of celebrity lives.
Sometimes, the puzzle pieces quickly fall into place, sometimes, the intrigue takes years to surface but the process of the unraveling is fascinating. That's the attraction of show business, it is always unpredictable!
Somaaya's new book revives sepia memories preserved in delicate, fragrant wrappings.
Author Speak:
In my decades of chronicling the dream merchants of this country, a question often and eagerly asked of me is: How different are our heroes and heroines on camera and off camera? The answer is simple— our artists, like the rest of us, are different people on different days. In a way they are like nomads, travelling through new terrains and investing in tentative, creative relationships and when a film is completed, they move on to camp with another bunch of artistes, in another city or country, to once again build another character, most of the time drawn from their repressed memories.
I am privileged to have been around show business at a time when actors were vulnerable and admitted their anxieties when cinema was more innocent and trust a treasure in all associations when success and failures did not blemish personal and professional equations.