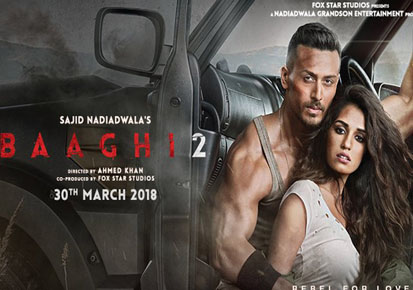 Tiger Shroff is unstoppable
 Film: Baaghi 2
Date: 30 March
Director: Ahmed Khan
Producer: Nadiadwala & Grandsons
Cast: Tiger Shroff, Disha Patani, Prateik Babbar, Manoj Bajpayee, Randeep Hooda, Deepak Dobriyal
Ratings: 2.5 stars
The trailers of Baaghi 2 prepare you for an out and out action so one is surprised that the writer has actually bothered to weave a story so what if it is a remake of Telegu hit Kashanm, 2016.
One morning Neha/Disha Patani is attacked by masked men as she waits to drop her child/ Ria to school. After a serious trauma disorder and two months in the hospital, Neha discovers that her daughter is still missing and the police has shut the case due to lack of evidence.
With no one to support her Neha contacts old boyfriend Ronny/ Tiger Shroff now serving as an army officer for help.
The first half of the film concentrates on the romance between the lead pair and a feeble attempt to create intrigue. The second half is about solving the mystery and punishing the villains, in short a lot of action!
The demerits of the film are the illogical plot, the exaggerated situations and meaningless violence. There is not a single weapon besides pistol, gun and knives that are spared and this includes sticks, ropes, pipes, drums, barrels, gas, smoke, fire, glass, bombs, chairs, tables, everything…
And this occurs every five minutes at any occasion/wedding or police encounter and every location/ hotel, bars, garage, dungeon, forest, helicopter, farmhouse, hospital, lockup, dark alleys and buzzing streets.
It is a torture to constantly watch vehicles blown to flames and goons beaten up in bloodbath because the question always is how much is too much?
The merits of the film are the scale and the production and the variety of skillfully performed action sequences and more than that the effort to present all the actors in refreshing roles.
Manoj Bajpayee as DIG officer, Randeep Hooda as LSD and Prateik Babbar as Sunny do their best, Deepak Dobrial for a change is in a serious mood and Disha Patani tries hard to be taken seriously.
Tiger Shroff sets new standards for action. He hangs from a helicopter, jumps from the rocks, flies into the sky and chases like a leopard and most important packages passion in his emotive scenes.
If you like daredevil action and Tiger Shroff then Baaghi 2 is for you, if not it is better to stay at home.
I rate Baaghi 2 with 2.5 stars.
@bhawanasomaaya