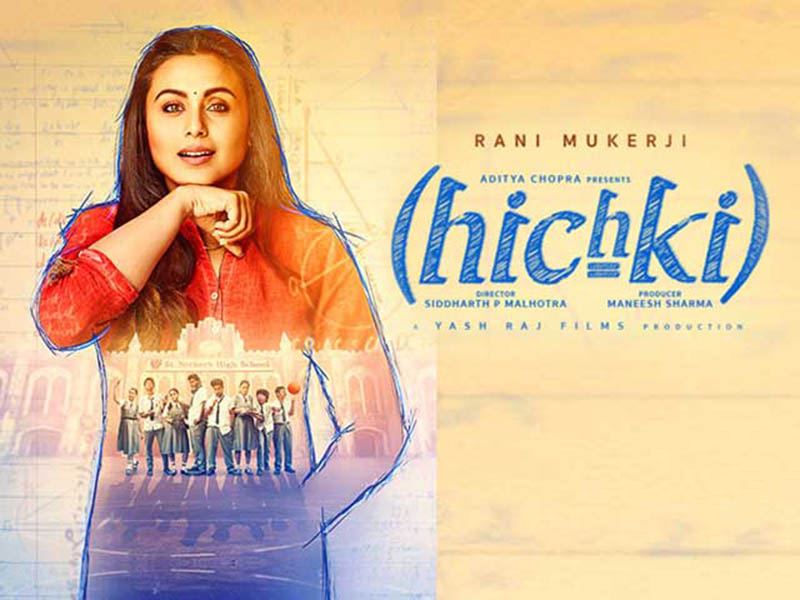 Film: Hichki 
Date: 23.3.2018
Producer: Yash Raj Films
Director- Sidharth P Malhotra
Writer- Sidharth P Malhotra, Ankur Chaudhry
Cast: Rani Mukerji, Harsh Mayar, Sachin-Supriya Pilgaonkar
Rating: 3.5 stars 
Hichki or Hiccup is the authorized adaptation of the year 2008 Hollywood film Front of the Class based on a book by the same title. It tells the story of Naina Mathur suffering from Tourette's syndrome a neurological condition that causes strange involuntary sounds and which is the reason a highly qualified Naina is rejected by 18 schools.
Naina lands a job as a teacher at an elite school on condition that she reforms the 9 rebellious students.
What appeals to you primarily about the film is the intention of the filmmaker, his sincerity, and sensitivity. The narrative engages you with compelling characters and pertinent issues relevant in present times.
The hiccup is quite literally Rani Mukherji's speech disability which is initially distracting but as the film progresses and you get engrossed in the emotional storytelling nothing matters.
All the children, all the teachers are refreshing, Sachin and Supriya Pilgaonkar in a brief appearance are effective and Vikram Gokhale in a cameo brims your eyes with tears but the film finally belongs to the spirited Rani Mukherji who embraces Naina Mathur with dignity and devoid of self-pity.
In her 20-year-old long career, Rani Mukherji has championed various domestic and social causes through her various characters be it Yuvva or No One Killed Jessica. In Black, she represented the disabled and in Veer Zaara she rose above political conflicts to take a moral stand.
 This time she addresses Tourette syndrome, a first timer in Indian movies and assures that we come out from the theatre enlightened and sensitized to the cause.
Hichki is a must watch for all children, students, teachers, parents, rather all of us who are quick to make judgments.
I rate the sensitive, refreshing, inspiring Hichki with 3.5 stars
@bhawanasomaaya