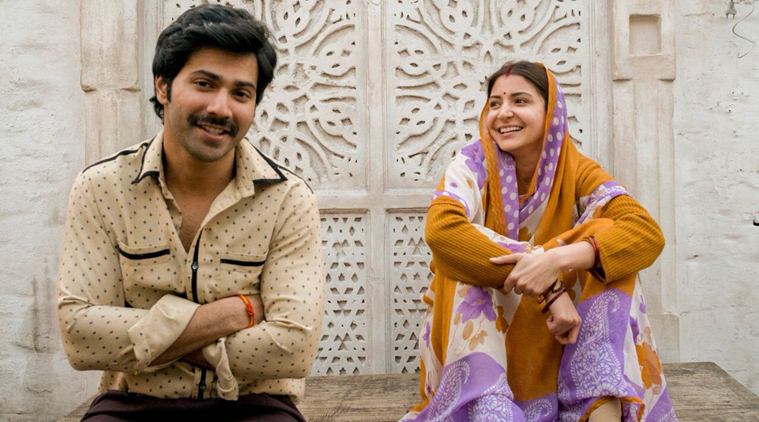 Film: Sui Dhaaga
Date: 28 September 2018
Writer-Director: Sharat Kataria
Cast: Anushka Sharma, Varun Dhawan, Raghuvir Yadav
Yash Raj Films produced and Sharat Kataria written and directed Sui Dhaaga tells the story of a family struggling for survival in the outskirts of Delhi.
Father Raghuvir Yadav has just been given a farewell at work. Mother is a homemaker who needs frequent hospitalizations. Older son has moved out with wife and child, therefore, the responsibility of running the home falls on the younger son Mauji/ Varuṇ Dhawan and his wife Mamta/ Anushka Sharma.
Mauji works as a helper in a sewing machine office and is regularly ill-treated by the boss's son who even makes him play a doggie. Mauji bears up with the insults for his salary but one day decides that enough is enough and quits.
Motivated by his wife Mauji sets up his shop on the street and does all the groundwork possible to attract customers but domestic distractions usher obstacles and business never takes off.
The first half of the film acquaints us with the daily routine of the household, the quirks and the complexities of the various characters.
The second half is about their aspirations. As Mauji supported by Mamta struggle to launch their small business there are many battles to be fought and many lessons to be learned.
Sui Dhaaga is about empowerment and more, it offers insight into marriage and joint families, is about a working couple, a movement, self-reliance, and aspirations.
The negatives are the paper-thin plot and the slow pace. The second half is repetitive and fails to reach a crescendo. The music is a major disappointment and the climax a foregone conclusion.
The positives are the intention, the message, to an extent the treatment and the performances.
Varuṇ Dhawan portrays Mauji with anger and amusement, his ability to smile under all circumstances with 'Sab baḍhiyaaṅ haiṅ' is endearing. This is his first role as a family man and he is convincing.
As the head covered daughter-in-law drowned in household chores Anushka Sharma is first-rate, her eyes light up when she is happy and face distorts when she cries. She is the new age woman who in time of crisis proves a true companion.
In the olden days director, Basu Chatterjee addressed common man issues through his light-hearted movies which the audience transformed into a personal experience.
Sui Dhaaga had the potential of having the same impact but despite his heart in the right place, writer/ director Sharat Kataria lost the mark.
I rate Sui Dhaaga with 3 stars.