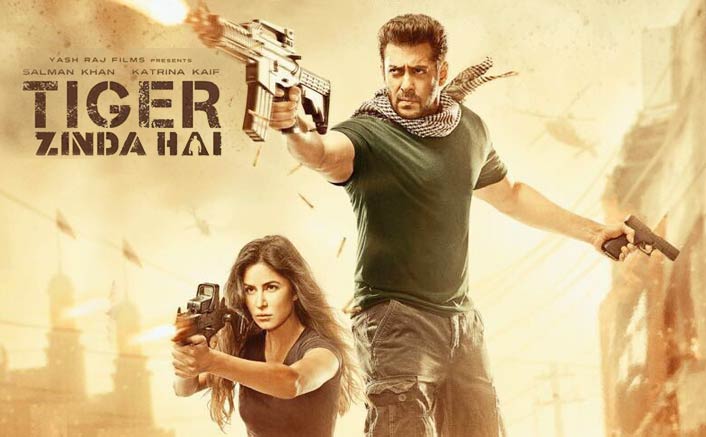 Film: Tiger Zinda Hai
Date: 22 December 2017
Producer: Yas Raj Films
Director: Ali Abbas Zafar
Cast: Salman Khan, Katrina Kaif
A screenplay based on a true story is usually presented as a realistic film but when a big banner like Yash Raj Films makes a sequel of blockbuster prequel it is a given that creative liberties will be taken to do justice to leading star cast.
In the 2012 released Ek Tha Tiger Zoya/Katrina Kaif  and Tiger/ Salman Khan mysteriously disappeared at the end of the climax.
In the 2017 sequel Tiger Zinda Hai we discover that they are happily married and parents of a courageous junior settled in Australia.
RAW head Shenoy/ Girish Karnad has been ordered to save 25 Indian nurses held as hostages by terrorists in Iraq and the only one Shenoy feels can do this is Tiger.
What works about the film are a couple of factors:
One, the breathtaking action, if Ek Tha Tiger had daredevil scenes, the sequel has Tiger blowing skulls, jumping roofs, galloping horses, fighting wolves and firing machine guns.
Shot in the deserts of Abu Dhabi the picturesque locations are most likely inaccessible to the common man and therefore fatally attractive.
Three and most important, the backstories: This is the first film where Salman Khan and  Katrina Kaif play man and wife, rather parents to a courageous junior.
This is the second time Yash Raj Films attempts a peace pact between India and Pakistan. The first time, when Veer Zaara crossed the boundary for the sake of love and second now as Tiger Zinda Hai unites two nations for a noble cause.
On the downside are the inconsistent pace and the dry narrative. The action sequences go on for an eternity and the climax is delayed by a good 30 minutes.
As for the performances Katrina Kaif once again excels in the action sequences firing guns and jumping over buildings. She is a parallel hero who saves Tiger in peril.  Salman Khan does what he wants to in the film and yes before you ask me, he does remove his shirt, the usual whistleblowing scene for his fans.
It is not fair to compare any prequel to a sequel so I will not do it. For the lavish packaging, sleek presentation and the magnificent scale of the film I rate Tiger Zinda Hai with 3 stars.
@bhawanasomaaya