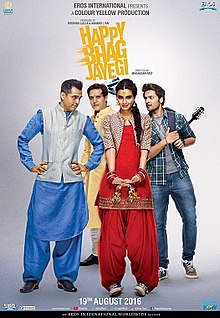 Film: Happy Phirr Bhaag Jayegi
Date: 24.08.2018
Producer: Krishika Lulla, Anand .L.Rai
Writer-Director: Mudassar Aziz
Cast: Jimmy Shergill, Sonakshi Sinha, Diana Penty, Denzil Smith, Jassi Gill, Bijou Thaangjam, Jason Tham
Music: Sohail Sen
In 2016 filmmaker Anand Rai introduced us to Happy/ Diana Penty who eloped on her wedding night to marry Guddu/ Ali Fazal and mistakenly landed across the border.
In 2018 Anand Rai introduces us to another Happy, Harpreet Kaur/ Sonakshi Sinha, a budding professor of horticulture.
Both land at the Shanghai Airport by the same flight and predictably get into the wrong car, as a result, Happy No: 1/ Diana accompanying singer husband Guddu is driven to the university campus while happy No: 2 /Sonakshi is kidnapped by Chinese villain Chang and his team.
Chang also kidnaps Daman Singh Bagha/ Jimmy Shergill from India and Usman Afrida/ Piyush Mishra from Pakistan who was an integral part of the prequel and therefore essential to the sequel.
Happy Phir Bhaag Jayegi is a simple story about simple people, all fascinating characters absorbed in their unique eccentricities.
Deliciously written and packed with witty, saucy dialogues commenting on Indo-Pak and Indo-China equations, here is an intelligent, socially relevant screenplay that nobody can object to.
The first half of the film rolls faster than anticipated. The second half is a tad lengthy but the editor grips you with her sharp cuts and even though the music is not exactly thrilling, the title track is energetic and the background score just perfect for the location.
Writer-director Muddasar Aziz expertly balances emotion with humor ably supported by ensemble performances from a sparkling team of actors be it Aparshakti Khurana or Jeeveshi Ahluwalia highly effective in cameos.
Piyush Mehra is as always effortless, Denzil Smith hilariously dramatic and Jessie Gill, the surprise packet of the film, his monologues particularly are applause-worthy!
Jimmy Shergill like old wine, gets better with every new film and character, and as Bagha delivers his most spirited and uninhibited performance, watch him break into a jig wearing the Superman costume and you will start clapping.
Sonakshi Sinha as the vibrant Harpreet Kaur from Amritsar is spontaneous and makes certain that there's not a dull moment when she is on screen and is as endearing in her action scenes as in the emotional moments.
Does this mean that there is nothing wrong with the film? Of course not, there are many things unexplained for instance:
Bagga, Usman and Happy have no passports but travel all over Shanghai without obstacles. They have no luggage but change costumes every day and with just one man spending all the money, they dine at the fanciest bars and restaurants.
Doors open for them at China jail and strangest co-incidences work in their favor like they bump into Happy No: 1 just walking on the street and discover Happy 2's father believe it or not, over an escalator.
These absurdities don't matter because the bottom line is that Happy Phir Bhaag Jayegi is a fun filled, frothy, refreshing entertainer. Besides, some films are not to be analyzed and judged but relished in their pure essence and Happy Phir Bhaag Jayegi falls into the latter.
Watch Happy Phir Bhaag Jayegi with your friends and family and brighten your weekend.
I rate Happy Phir Bhaag Jayegi with 3.5 stars.
@Bhawana Somaaya