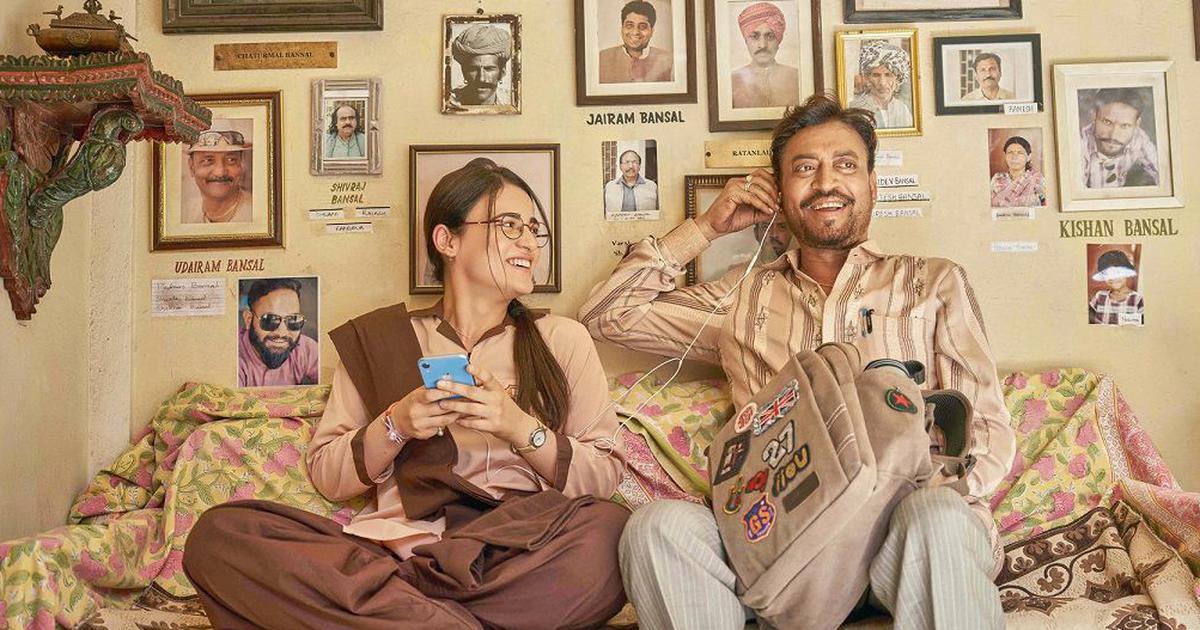 Disappointing
Film: Angrezi Medium
Release: 13.03.2020
Director: Homi Adajnia
Cast: Irrfan Khan, Kareena Kapoor, Dimple Kapadia, Radhika Madan
There are some films you have expectations from and it is because you are familiar with the director's body of work. Homi Adajania has made 6 films from 2006 to 2019 out of which 3 have been both successful and critically acclaimed. In 2006 Adajania made Being Cyrus a psychological drama that redefined narratives, in 2011 he served us a frothy Cocktail that elevated Deepika Padukone's career to a different direction and in 2012 he delivered a deliciously different Finding Fanny that made him a favourite with the critics.
Now in 2020 Homi Adjania brings the sequel of 2017's much celebrated Hindi Medium that told the story of rich, unsophisticated parents in Delhi who went all out to seek admission for their daughter into an English medium school. The thought is the same but while in the prequel the parents were obsessed with a dream, in the sequel the daughter is obsessed with the idea of enrolling into the most prestigious university of London.
Angrezi Medium introduces us to Champak Bansal/ Irrfan Khan who has a family business of sweets in Udaipur. Champak is a single parent devoted to fulfilling the dreams of his daughter Tarika/ Radhika Madan because Champak believes that breaking a dream is breaking a person! Champak says there are three kinds of people, those who are lucky with love, those who are lucky with money and those who are lucky with fame and the fourth, like him who are deprived of all three because he is forever confused. And has been so ever since childhood.  
Call it coincidence but I was thoroughly confused watching Angrezi Medium: Confusion 1: How can a little girl who has had no exposure, no back story, no family history connected to UK become so persistent about traveling to London, sounds unconvincing to me! Confusion 2:
After Tarika grows up to become Radhika Madan you expect her to have a reality check about her roots, her father, his family, their business and the funding that goes into fulfilling such a dream but clearly Radhika is clueless and which after a point becomes annoying.
Confusion 3: After the fiasco at the school annual day and the drama outside the principal/ Meghana Malik's balcony you expect fireworks from the videos gone viral but nothing happens because the only reason the conflict is added to the story is to pose bigger challenges to the father, it is all too contrived and dishonest. Confusion 4: When Radhika has a lap top why is her naïve further running to unreliable candidates and seeking help in investigating options at the university? Have they not heard of something called internet?
Confusion 5: Radhika loses her father and her uncle/ Deepak Dobrial at the airport and it does not occur to her that she can find them lodging a complain however after few phone calls, some borrowed money and email connection, she finds her way from the airport to her university accommodation. What do you call her clever or cunning?
The biggest letdown is the screenplay. It is unconvincing that Irrfan Khan and Deepak Dobrial are deported from UK because they cannot speak English, it is unconvincing that Khan and Dobrial adapt new identities so easily, that hey travel to UK and back again to UK, splurge on rents, philanthropy, indulge in affluent auctions and when they are doomed even try their luck in gambling, I mean what's going on?
The pace is unbearably slow and the sequences too stretched, the comedy is unengaging and nothing touches your heart! Champak Bansal reveals that the only three occasions in his life when he has not been confused are when he got married, when he had his baby and when he decides to return home in the climax. Amazing because the only time I was not bored in the 2-hour 30 minutes screening was in three sequences, strange co-incidence.The first, when Kareena Kapoor Khan dazzles as cop Naina Kohli on the streets, hospital and home. The second, when Dimple Kapadia lets you into the world of Mrs Kohi, her presence is short and sweet and perfect pitch and third, when Irrfan Khan has a break down with his daughter Radhika Madan. That's it.
 So, while I'm delighted that Irrfan Khan is healthy back on screen again, I'm disappointed with Homi Adajania. I rate Angrezi Medium with 2.5 stars
Audio review on @bigfmindia
Video reviews……
You can now listen to Godmother of Reviews on Podcast eplog.media network and also on other leading podcast platforms. Do visit www.eplog.media today.
Bhawana Somaaya