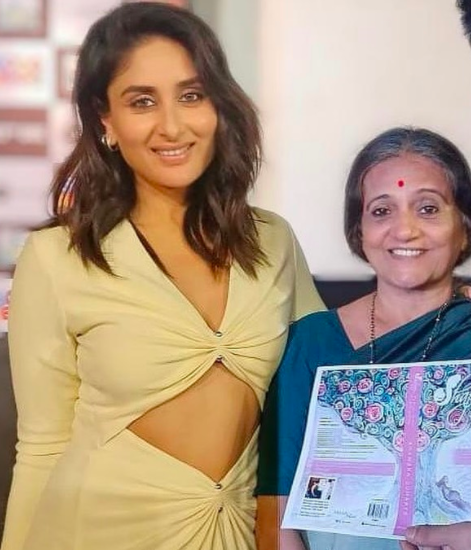 My first memory of Kareen Kapoor is at the shooting of Pukar in 1983 in Goa. They were shooting an action sequence between Randhir Kapoor and Amitabh Bachchan and Babita was at the location with Karisma and Kareena. While Karisma was playing with Shweta, Srishti and Abhishek Bachchan, Kareena all of three years old was on her mother's lap watching the filming. When it was time for Bachchan to bash up Kapoor, Kareena began bawling and the shooting had to come to a standstill. To pacify her, Bachchan and Kapoor embraced each other but Bebo would not stop crying so finally Babita had to take the kids and leave for the hotel.
 
The next time, I saw Bebo was at the funeral of Raj Kapoor. The RK Bunglow was over flowing with people and as hours went by, Babita and Neetu had to attend to domestic responsibilities, so there was Babita sitting amidst guests like us, feeding dahi chawal to a sleepy Bebo. Babita hoped Bebo would go to sleep after dinner but Bebo was strolling in the garden with other kids.
 
A few years later, we had a photo shoot with Karisma Kapoor and Jackie Shroff for g magazine cover and were meeting at Jackie's home. Karisma was reaching there directly from her shooting and requested if I would bring Bebo with me to Jackie's home in Bandra. Those days the K sisters lived in Lokhandwala, very close to my home, so Bebo just back from school, her short hair left lose, looked spectacular. I asked her what she wanted to be when she grew up and she said, 'An actress, what else? Lolo has time till I finish schoo,l after that I will take over'.
 
And then came the year 2000. I spotted her as soon as I entered the Bachchan's Diwali party. This was before the release of Refugee and I was mesmerized. In a white ghaghra and eyes filled with kohl she looked like an apsara descended on earth. Who is that beautiful girl, I asked Kirron Kher standing beside me? Kher said, 'You mean you did not recognize, that's Bebo who else?'.
One film led to another and decades transformed Bebo to Diva Kareena Kapoor. Today the little girl who cried on the sets of her father's film is a mother herself and knows how to protect her little boy from the shooting chaos. Her attraction with the spotlight continues though and who knows, a decade later, son Taimur will be making his debut in movies and I will be still around, writing about the family legacy?