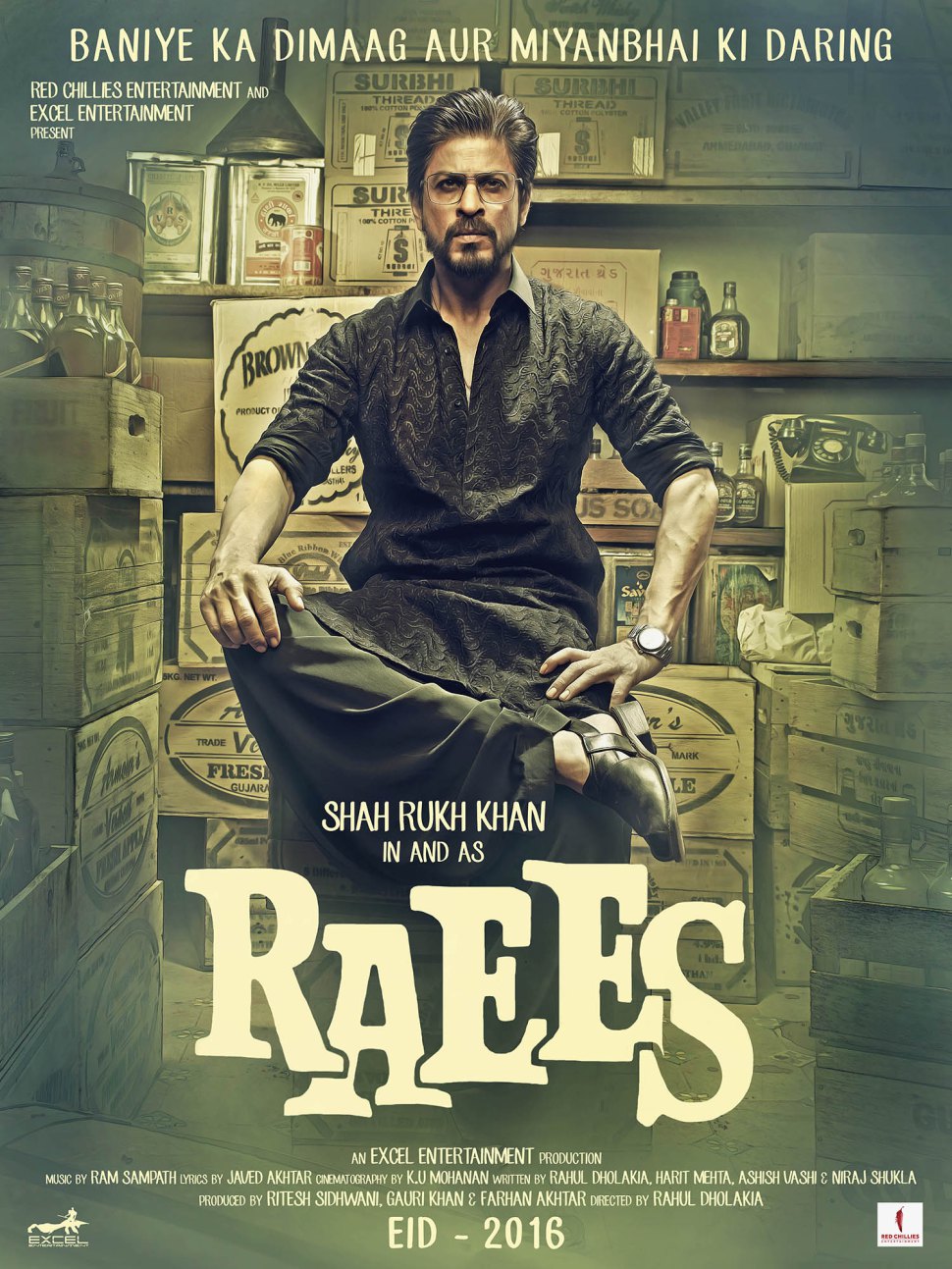 Film Review: Raees
Date: 25 January 2017
Producer: Excel Entertainment
Director: Rahul Dholakia
Cast: Shah Rukh Khan, Mahirra Khan, Nawazudin Siddiqu, Ronnit Roy
Rating: 3.5 stars
Set in early 1980's Gujarat, India Raees is yet another story of a criminal and his meteoric rise to become the single most powerful man in the state.  We have seen the same plot exploited time and again in Hollywood and Indian films glorifying the underworld hero.
Based on the life of Abdul Latif Raees Alam is a courageous, ambitious boy described by his mentor as Gujarati ka baniya dimaag aur miyaan bhai ka daring and Raees Alam takes the compliment seriously. In a time of serious curfew in the city, Raees and his friend hide bottles wrapped in newspaper in their school bag and make deliveries for their boss and when they grow up, they are ready to throw him a challenge.
The shift in equation alters many relationships and ushers new conflict and anxieties for Raees and his supporters but he is a brave heart and ready for the rocky path. Director Rahul Dholakia is strongly influenced by Mani Ratnam's award winning Nayagan and it is apparent in his shot taking and moral standing of the film.
In Nayagan a young Kamal Haaasan while loading the gold on the boat for his mentor asks, 'Are we doing the right thing' to which his mentor responds, 'All I know is that anything that feeds many hungry mouths cannot be wrong!'
In Raees young Alam asks the same question to his Ammi and her answer is 'No work is small and there is no religion bigger than your work'.
What works in favor of the film is the period setting, the costumes, the ambiance, the characterizations, and the dialogues. What does not is the length of the film and that it does not have anything new to say.
The first half is racy and promising and you expect twists and turns in the second half but it goes the predictable way.
Pakistani actress Mahirra Khan is a letdown, Shah Rukh Khan has special chemistry with all his heroines but this time the romantic moments leave you cold and untouched. Nawazuddin Siddiqui plays a cop yet again but lends a flavor to his character. He is so fluent in his lines that it almost seems as if he has written the character of Majumdar himself.
Raees is old wine filled in new bottle for Shah Rukh Khan fans and the bonus is that that he has never looked so good or performed better.