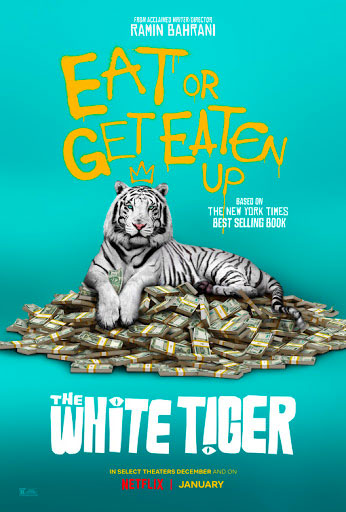 Film: The White Tiger
Date: 22.01.2021
Director: Ramin Bahrani
Writer: Arvind Adiga Ramin Bahrani
Cast: Adarsh Gourav, Priyanka Chopra, Rajkummar Rao
Ratings: 3 stars
This is a strange film where you are disturbed while watching it and disturbed after the film is over. On the surface, everything is sane and logical but as Balram Halwai/Adarsh Gourav narrates his dark story of rise from poor village in India to successful entrepreneur in modern India, you are rendered speechless by his blind ambition and cold-blooded behaviour.
Balram is a sharp mind and angry when he is removed from school to toil like his older brother. When he gets older, he is determined to leave this village and follow his dreams and recognizes first the opportunity when the landlord visits the village with his sons. Balram is hired as driver for the America returned Ashok/ Rajkummar Rao and his wife Pinky/ Priyanka Chopra-Jonas) and he makes himself indispensable to his masters. Life appears rosy until a tragedy occurs and Balram feels betrayed and trapped by the people he served selflessly. It is the beginning of a revolt against an unequal system and a craving for a new identity.
Balram is now a successful entrepreneur writing mails to a Chinese CEO visiting Bangalore for a tech conference. Gourav is proud of his journey and unapologetic about his misdeeds, he says it was necessary to dismantle India's ancient and crippling caste system. Director Ramin Bahrani's film is a faithful adaptation of author Arvind Adiga's 2008 release book by the same title. The Irani-American filmmaker is a keen observer of society and humanity and this is evident in all his films be it his debut film Man Push Cart to his more recent effort, 99 Homes, where Bahrani through emotionally charged stories questions the economic and political systems of a country, in this case India.
The positives of the film are the writing, cinematography, music. It is not easy to juxtapose the diverse worlds of modern India without becoming judgemental but Bahrani accomplishes that without drama or indulgence. All the performances are first be it Gaurav's grandmother in the poor village or the autocratic landlord, Mahesh Manjrekar. Rajkumar Rao and Priyanka Chopra are convincing as the America retuned couple but the film finally belongs to the writer Arvind Adiga, to protagonist Adarsh Gourav for making Balram with all his demons so palatable. And finally, to director Ramin Bahrani for serving a dark, demeaning story with a cherry dressing that keeps you wondering what's going on in the minds of the characters.
Bhawana Somaaya