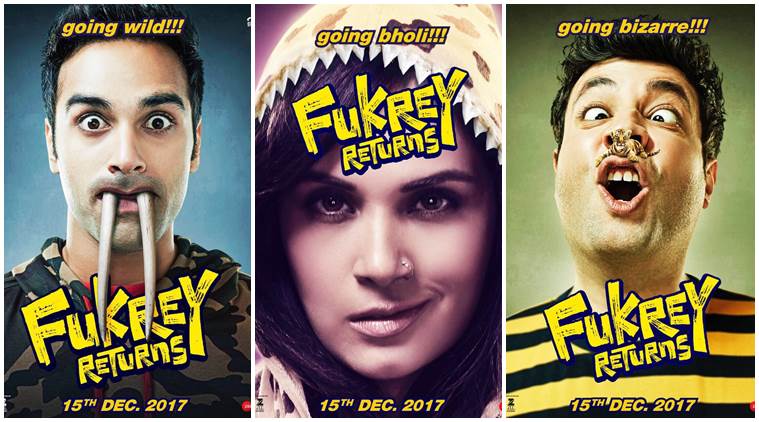 Film: Fukrey Returns
Date: 08.12.2017
Director: Mrighdeep Singh Lamba
Producer: Excel Entertainment
Cast: Pulkit Samrat, Varun Sharma, Ali Fazal, Manjot Singh, Richa Chadda
Ratings: 1.5 stars
Fukrey Retuurns is the remake of 2013 release Fukrey starring four slackers Hunny/ Pulkit Samrat, Chucha/Varun Sharma, Zafar/ Ali Fazal and Laali/ Manojit Singh who come together to make easy money and live up to their notorious image in Delhi. In the sequel, they are joined by a fifth partner in the crime, Panditj marvelously played by Pankaj Tripathi.
Bholi Pujaban portrayed by the saucy Richa Sharma controlled the four friends who were vastly relieved when the don went behind the bars in the prequel. In Fukrey Returns Richa Sharma is back from the jail and the boys are back to hunting treasure for the don.
In the two hours 21-minute film the characters wander all over the city – the zoo, the ruins, the minister's bungalow and a glamorous stay at a 7-star hotel. There was no storyline in the prequel and there's no plot in the sequel either unless you call Varun Sharma having premonitions a serious track? Many described Fukrey as a delightful watch and many were cracking with laughter at the screening of Fukrey Returns too.
I didn't get the humour the first time nor the second time. If you are my age bracket I suggest you stay far away from the film. If you are under 30, relish senseless chatter and senseless PJs, in short, you are a slacker, you can get your mad friends together and head to the nearest cinema hall.
As a critic it's not always possible that you fathom every film you watch, I couldn't figure out Fukrey nor Fukrey Returns but for the competent performances, I rate the film with 2 stars.
@bhawanasomaaya