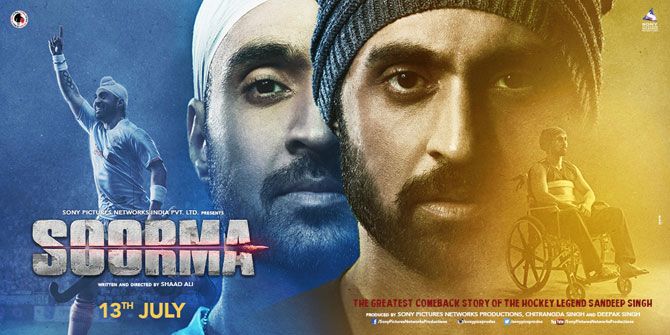 Film: Soorma
Director: Shaad Ali
Cast: Diljit Dosanjh, Taapsee Pannu, Angad Bedi, Vijay Raaz
Release: 13 July 2018
Soorma tells the story of India's former hockey Captain Sandeep Singh played by Diljit Dasanjh raised in Shahabad, a sleepy town of Haryana.
Enrolled into hockey training in childhood only because his older brother Bikramjeet Singh/ Angad Bedi was a serious player, Sandeep abandons the sport because he is disillusioned by his ruthless coach and his inhuman penalty.
As a teenager, love draws Sandeep to hockey again and he is skilled enough represent India in the World Cup Hockey tournament. He is on his way for the prestigious match when a near fatal accident leaves Singh paralyzed both literally and figuratively.
A life span has several accomplishments and defeats and it is impossible for a biographer to capture all the moods and moments, so director Shaad Ali and his writers Siva and Suyash focus on selective victories and vulnerabilities of the sport star and in the process takes some liberties.
Sandeep Singh took 3 years to recover from his spinal injury, in the film it happens faster.  In real life he suffered two near-fatal accidents, the film concentrates on one. The story ends on his Arjuna Award and conveniently makes no reference to Singh's present state.
The positives of the film outweigh the negatives and these include authentic locations, dialect, costumes, art, music, and most important, an engaging narrative with sensitive writing and some refreshing moments.
All the performances are first rate: Satish Kaushik as Singh's anguished father, Angad Bedi as his brother is the surprise packet of the film, Vijay Raaz as his coach and Kulbhushan Kharbanda in a sparkling cameo.
As Harpreet, Tapsee Pannu not just looks like an athlete but also plays like a professional.  Tapsee is as convincing while romancing/ crying or dancing bhangra at a family celebration.
As the highest goal keeper, better known as Flicker Singh, Diljeet Dosanjh portrays Sandeep Singh with purity and simplicity and touches your heart.
Soorma is not just about sports and sportsmanship.  It is about relationships, aspirations, endurance and most importantly, courage. It involves family, love, society and the entire country.
I rate Soorma with  3.5 stars.
The YouTube ID of Insert video URL or ID here is invalid.
Bhawana somaaya/ @bhawanasomaaya