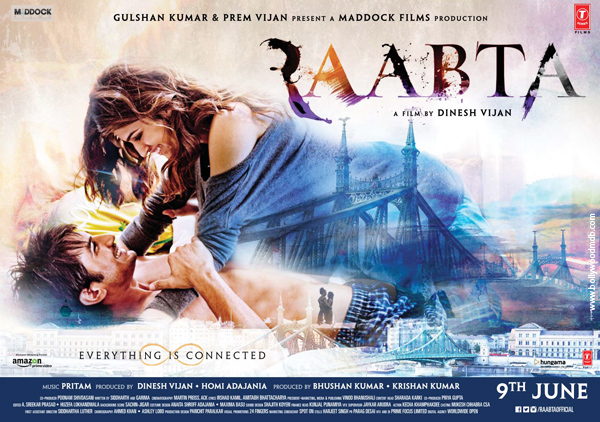 Film: Raabta
Date: 9 June 2017
Director: Dinesh Vijan
Producer: Maddock Films
Writer: Siddharth-Garima
Stars: Sushant Singh Rajput, Kriti Sanon and Jim Sarbh
'When did you arrive, sorry did not notice you' says the girl in the chocolate shop to which the boy replies 'A while ago, so what's up?' they strike a casual conversation like they've known each other for years. The camera does not freeze and there is no background score but you instantly know there is a back story to this relationship.
Predictably the hero lands at the shop the following day and walks the girl home, he is charming and she is amused by him. They kiss and confess, make love and chatter, eat and walk the streets welcoming the rain and the sunshine; both confess they have never felt like this with anybody before!
Passion is riding high and before they are swept off their feet, both decide they ought to pause and ponder and be sure if this is special. Coincidentally the boy leaves for a work conference and the girl missing him terribly, confides her story to a new buddy/ Jim Sarbh over dinner and drinks and that is the end of the dream!
Set in the picturesque Budapest  Raabta is a contemporary love story of Shiv/ Sushant Singh Rajput and Saira/ Kriti Sanon, a tale of chemistry and connection that all youngsters can identify with and simultaneously, a typical Hindi film reincarnation narrative.
What appeals about the film is the racy, refreshing first half sprinkled with sizzling dialogues by Siddharth and Garima expertly internalised by Sushant and Kriti. Adding intrigue to the romance is the haunting background score by Sachin- Jigar.
The negative is the second half that travels you into the past lives of the protagonists. You feel completely disconnected with the period set, their dialect and conversation and don't feel anything for the characters.
Reincarnation is not a novel subject for the Indian audience. Over the decades we have watched many films related to past lives including Madhumati and Milan. Unfortunately, Raabta does not fall into the same bracket. Yes, the first half is engaging, new face Jim Sarbh stylish and lead pair charismatic.
Watch Raabta if you must for the vibrant presence and the palpable chemistry between Kriti Sanon aur Sushant Singh Rajput.
I rate Raabta with 2.5 stars.