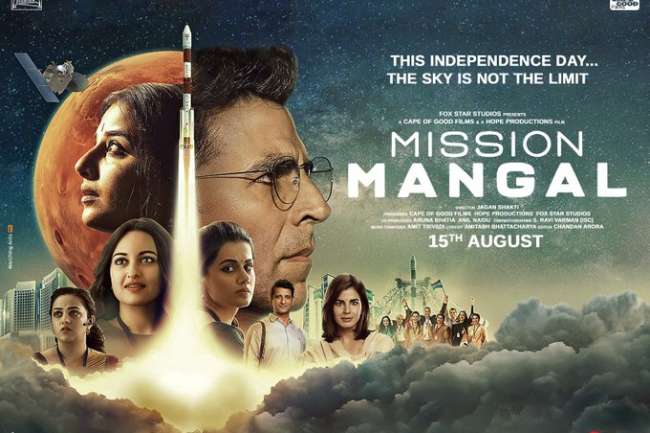 Film: Mission Mangal
Date: 15.08.2019
Director: Jagan Shakti
Writers: RBalki, JShakti, Nidhi Sen Dharma, Saket Kondiparthi
Cast: Akshay Kumar, Vidya Balan, Sonakshi Sinha, Taapsee Pannu,Nithiya Menen, Sharman Joshi, Kirti Kulhari, Dattetreya, Sanjay Kapoor.
Tara Shinde/ Vidya Balan is upset that the maid has taken off on her important day and rushes through her household chores to make it on time to ISRO, her workplace. Today is the GLSV launch but unfortunately, it does not take off partly due to Tara's error of judgment. Team leader Rakesh Dhawan/ Akshay Kumar assumes responsibility for the project failure and is shunted to another project/ Mars Mission which everyone knows will never take off. Tara is heavy-hearted about the turn of events and finds a solution to the problem believe it or not while frying puris on the gas stove.
Mission Mangal is the inspiring story of India's first Mars Mission, Mangalayan launched in 2013 and executed by a group of unlikely scientists. R Balki is credited as the writer -creative director of the film and you can sense his detailing in defining the various characters.
Team leader Akshay Kumar hums film songs under duress, eats sweets to celebrate failure and is refreshingly dramatic when being sarcastic. His colleague Vidya Balan is passionate about her work and unapologetic about it to her forever grumbling husband/ Sanjay Kapoor.
Together, Akshay and Vidya build a team of inexperienced scientists which includes an ambitious Eka Gandhi/ Sonakshi Sinha whose ultimate goal is NASA, a virgin Parmeshwar/ Sharaman Joshi obsessed with horoscope, a semi-retired Ananth Iyer/ Dattatreya and three more, Tapasee Pannu, Nithiya Menen, and Kirti Kulhari.
With so many characters it is not possible to do justice to all; still Sonakshi Sinha, Sharman Joshi, and Dattatreya make a mark. It is refreshing to watch the lead pair involved in a dream rather than with each other. Akshay Kumar takes a while to grow on you as he cracks bad jokes, jumps over the tables and makes fictitious calls to the ex-President but eventually, he wins you over by not hogging screen space. Vidya inhabits Tara's home-heart and brain and is as real attending to domestic chores as executing the satellite journey from earth to Mars.
There are minor flaws, some characters are under sketched and saris for the women characters are not color and character-specific. I also disagree with the humor in reference to sex and weight but overlook the lapses for the nail-biting climax and the message.
Mission Mangal is about accomplishing the impossible; about changing mindsets, dreaming big and most important, pride for the country. As characters wrestle for physical and mental space, you navigate through by-lanes of past/ present soaked in marital anxieties, parental pressures, neglect of the senior and guilt of not bearing a child and are privy to naked ambition.
There is a paradigm shift in gender gaze that reflects a changing India.
I rate Mission Mangal with 4 stars.
Watch the review: https://twitter.com/bigfmindia/status/1162315215137959936?s=19
Bhawanaa Somaaya