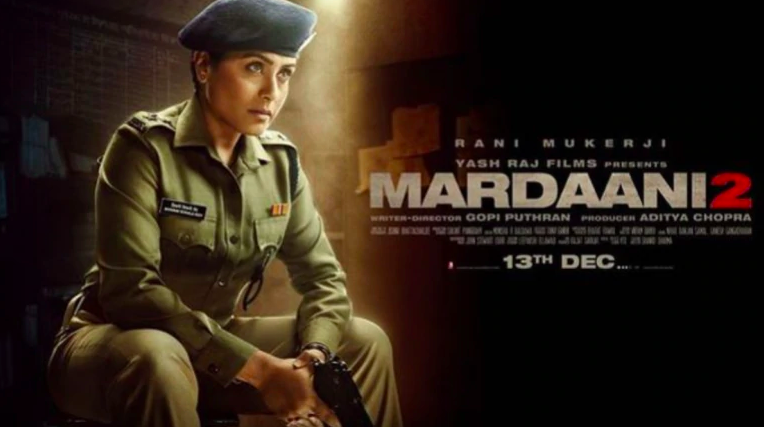 If the woman is so capable why call her Mardani?
Film: Mardani 2
Release: 13.12.2019
Producer: YRFilms
Director: Gopi Puthran
Cast: Rani Mukherji, Vishal Jethwa
Music: Annu Malik
Name: Shivani Shivaji Roy
Designation: Crime Branch, Senior Officer
Posting: 2014, Mumbai
Case: Child Trafficking
Details: Every 8 minutes a girl goes missing and every year 40,000 kids are kidnapped
Deadline: 30 days
Accomplishment: Organized gang busted
Team: Director Pradeep Sarkar, opponent, Tahir Raj Bassin
Six years later….
Name/ Designation: Shivani Shivaji Roy. Crime Branch Senior Officer
Posting: 2019, Kota, Rajasthan
Case: Serial rape and murder
Details: There's a rape every 10 minutes, of the 2000 registered cases the perpetrators are minors.
This time Deadline: 48 hours
This time Team: Director Gopi Puthran, accused, Vishal Jethwa
Mardani 2 is a sequel of Yash Raj Films Mardani and is stronger and more effective than the prequel.
The opening shot giving a panoramic view of festive celebrations in Rajasthan is a treat to the eyes and amidst all the revelry you are introduced to the villain, Sunny/ Bajrang/ Vishal Jethwa looking for his next victim. He is self-assured and dangerous and is attracted to the strong and assertive women because he feels they have to be taught a lesson and he is the one who will do it, so Sunny lays the trap and when they fall for it he kidnaps them, tortures, assaults, abuses and finally murders them one by one!
Mardani 2 is a tale  of the rape victims between Dassehre  and Diwali, the story of Shivani Shivaji Roy/ Rani Mukherji and how she cracked the case with her team but most important, it a film that holds a mirror to our society where  women are still unequal to men.
Irrespective of whether she is in a position of power or not, working/ studying or even at home, she is molested in public space/ attacked in professional space and abused in personal space and Maardani 2 addresses that exploitation.
The merits of the film include the length/147 minutes, engaging screenplay, powerful dialogues, razor sharp editing, convincing action and impressive camera work so Gopi Puthran take a bow. The demerits are that the criminal is always able to strategize his plans even though he has no infrastructure or consistent resources. Shivani and team have a deadline of 48 hours and are on the field without a break but the strain and the exhaustion does not reflect in their appearance/body language or temperament.
Vishal Jethwa is energetic, unpredictable and the surprise packet of the film reminiscent of the menacing Shah Rukh Khan in Darr. Rani Mukherjee proves that she is as convincing wearing chiffon singing romantic songs in the Alps as dragging the villain by the collar and whipping him with a belt.
I have a complaint against producer Aditya Chopra; if you truly believe in the message of the film why title it Mardani? Think about it!
I rate Mardani 2 with 3.5 stars.
Bhawana Somaaya