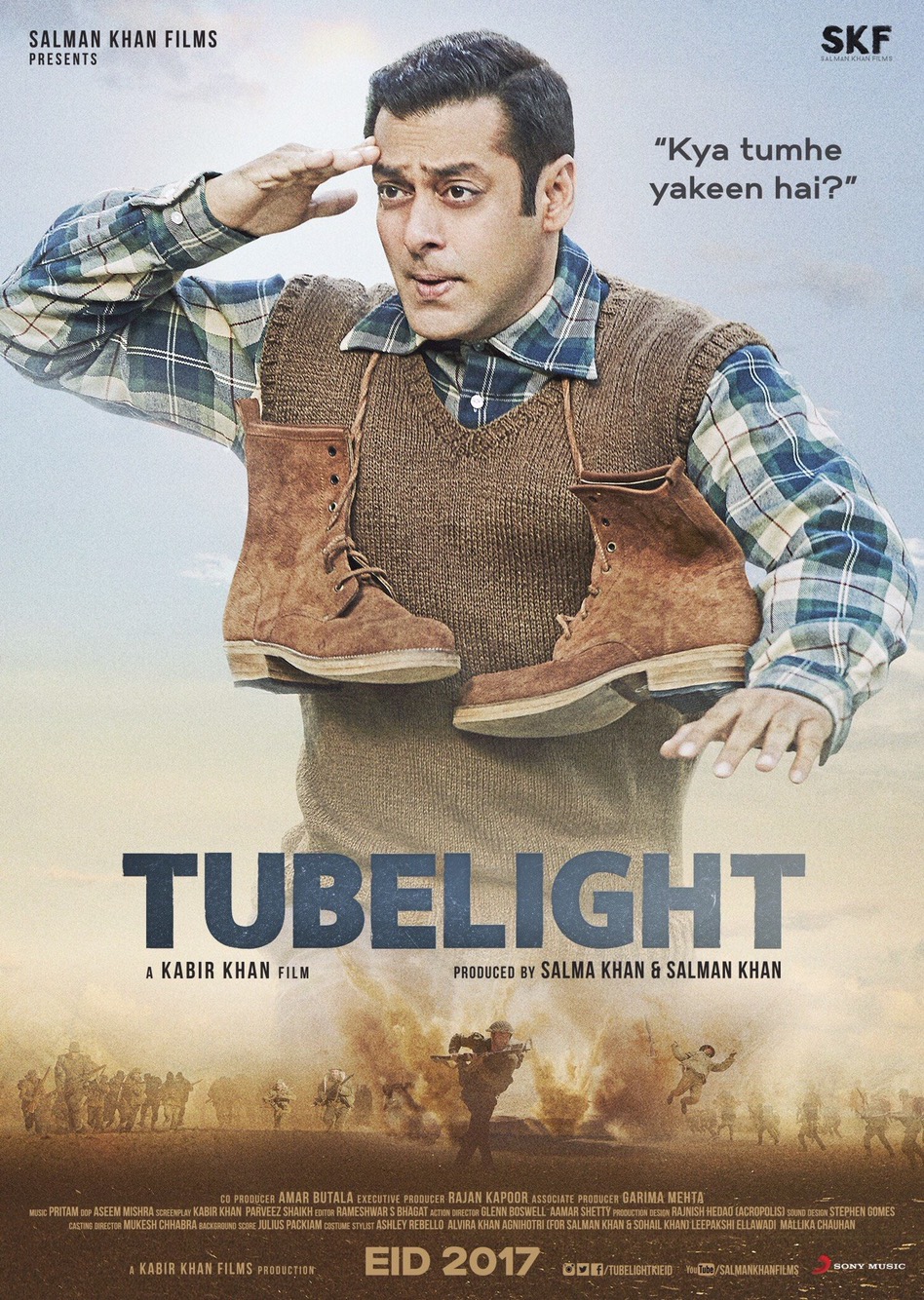 Film: TubelightDate: 23 June 2017
Writer/Director: Kabir Khan
Producer: Salma & Salman Khan
Stars: Salman Khan, Om Puri, Sohail Khan Matin Rey Tangu, Zhu Zhu
Ratings: 1.5 stars
Laxman Singh Bisht is the butt of all jokes in his school set in the far away mountains because he is dim and clumsy but a few years later, when his younger brother, Bharat Singh Bisht arrives together they fight all the bullies in the town!
Set in the turbulent times of 1962 Sino-Indian War, writer director Kabir Khan is inspired from Alejandro Monteverde's Little Boy.
In the original it is a little boy blessed with unusual powers craving for his father to return from the Hiroshima war, in the adaptation it is a childlike Salman Khan unaccustomed to fending for himself yearning for his younger brother to return from the war.
The problem with the film is it just does not pick up. The first half is consumed in introducing the characters and the situations and the screenplay meanders aimlessly addressing all kinds of issues like magical powers and Mahatma Gandhi's teachings, all noble thoughts but unconvincing.
The pace is exceedingly slow and the narrative lack luster. That the film is devoid of entertainment is understandable but for a subject as passionate to be devoid of any emotion is unforgivable! Absolutely nothing about the film works- not the dull writing, the cardboard characters, the dull performances and the absolutely forgettable music.
In the absence of Bharat, Laxman who is totally dependent on his younger brother does not go through any crisis. He says he is yearning for his brother but is always smiling, cycling around town. He has no source of income but is immaculately dressed and often treats his friend for ice-creams. It is a bit strange that in the entire town there is only one Chinese family and only one car…!
For a filmmaker celebrated for his documentaries Khan is arrogantly inattentive to details, his crowd scenes are stage like and his characters not remotely connected to reality. There are not as many people in town as in the chorus during a dance sequence. The screenplay is both unemotional and un-engaging.
Yes the film has picturesque locations but backdrops don't make a film nor can superstars substitute for a plot.
It is disheartening but this Eid Tubelight will not sparkle for Salman Khan Fans. Because this time, Khan is not in a mood for action/ romance/ item number or even to remove his shirt!
This time, Khan is in a mood to depict his emotional side, now it is up to you, whether you want to weep with him or for him!
It is a tragedy that the filmmaker who served you Kabul in 2006 New York in 2009 Ek Tha Tiger in 2012 and Bajrangi Bhaijaan in 2015 fails to shine the theatres with Tubelight in 2017!!
Clearly something has gone terribly wrong somewhere and I bet both the Khan knows what it is.
To not spoil the mood of the festival further I rate Tubelight with 1.5 stars.