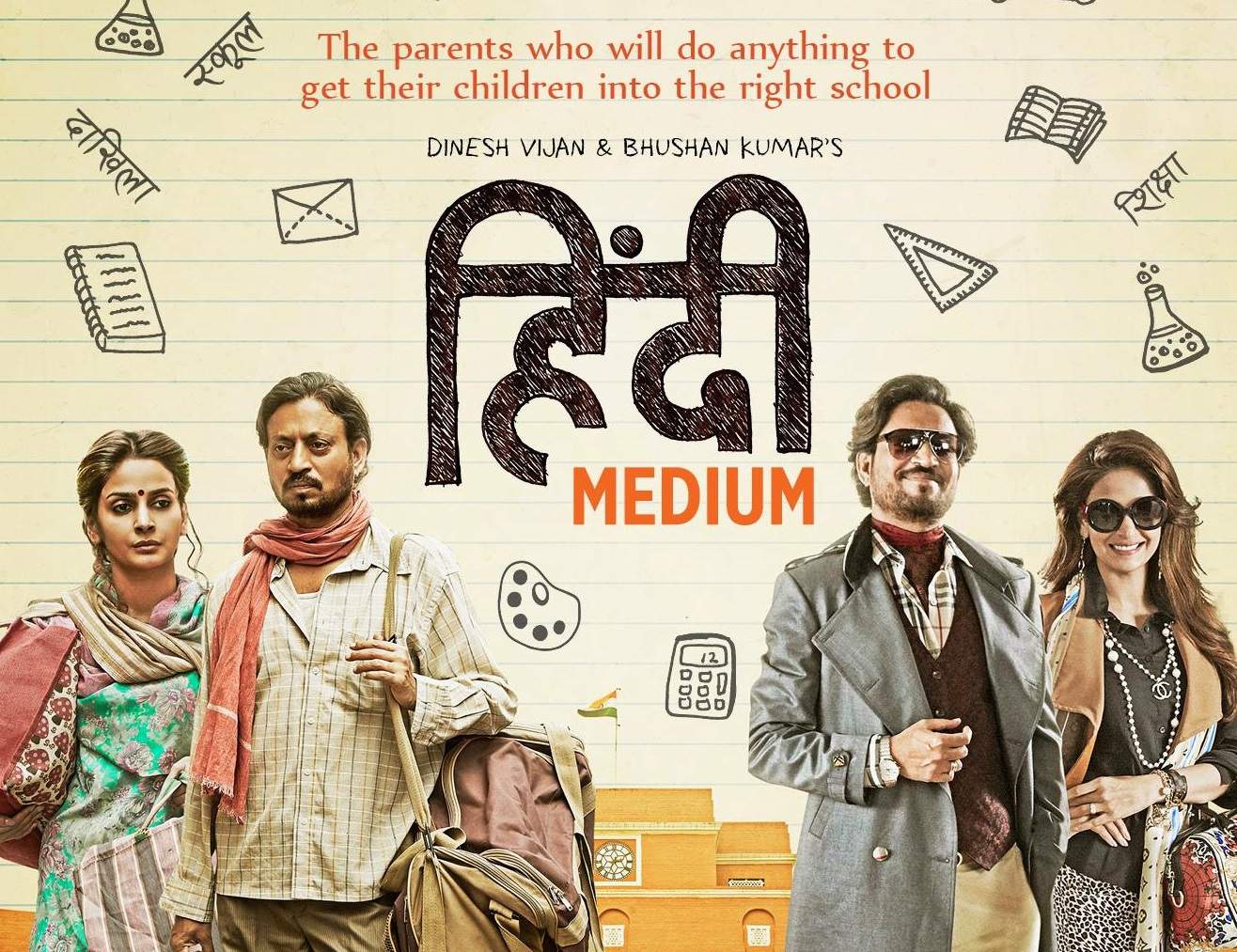 Film Review: Hindi Medium
Date: 19 May 2017
Director: Saket Chaudhary
Writers: Zeenat Lakhani, Saket Chaudhary 
Cast: Irrfan Khan, Saba Qamar, Deepak Dobriyal
 Rating: 3.5 stars
First thing first, after a long time comes a film where the title, the poster, and the content are in sync. It reminds you of Basu Chatterjee cinema where the message was paramount and the filmmaker unfolded a simple story that touched your heart.
Writer-director Saket Chaudhary has done this successfully in Pyaar Ke Side Effects/ 2006 and later in Shaadi Ke Side Effects/ 2014 but this time he surpasses all expectations as he chronicles the  pathos of Hindi speaking parents Raj/ Irrfan Khan and Mithu/ Saba Qamar struggling to find admission for daughter Piya/ Dishita Sehgal into an English medium school.
The admission is the single focus of their lives and to obtain it the couple is willing to go to any limits which include / long queues/ bribe/donation/ coaching class/ extracurricular activity and even a makeover of the image.
In the first half on the wife's insistence, the couple shifts out of their ancestral home in Chandni Chowk to the elite Vasnat Vihar and live a branded life where they eat/speak/ dance in English and Mithu becomes Honey but the plan fails miserably.
Post interval, the desperate parents seek to final resort 'Reservation Quota' and move into a lowly neighborhood Bharat Nagar striving for daily wages/water and ration. It is in the slums in the company of Deepak Dobrial and family that Raj and Mithu learn lessons of life!
What works is the refreshing screenplay and novel characters. The hero is a flourishing businessman who sells original copies of acclaimed designers; his wife is a wannabe. Director Chaudhary with writer Zeenat Lakhani serves you an engaging narrative, packed with emotions and laced with delicious details right up to the ring tone of your hero.
Adding spice is Amitosh Nagpal's dialogues and super timing of the actors and Sachin-Jigar's music.
Irrfan Khan is adorable when entertaining his client at the shop, entertaining when addressing a call from wife as Mata ka bulawa and admirable as his indulgence alters to exasperation. As his dramatic/ambitious wife Saba Qamar is extraordinary but the one who breaks your heart and moves you to tears is the ever dependable Deepak Dobrrial!
So is there nothing wrong with the film, of course there is, the first half is stretched and the second half is predictable, particularly the long speech in the climax but the merits and the message outnumber the flaws. After a long time comes a film that is wholesome entertainment and addresses a conscience in crisis…!
A must watch for all parents/ teachers/ students so that we stop discriminating people by language.
Follow me on Facebook, Twitter, and Instagram  @bhawanasomaaya