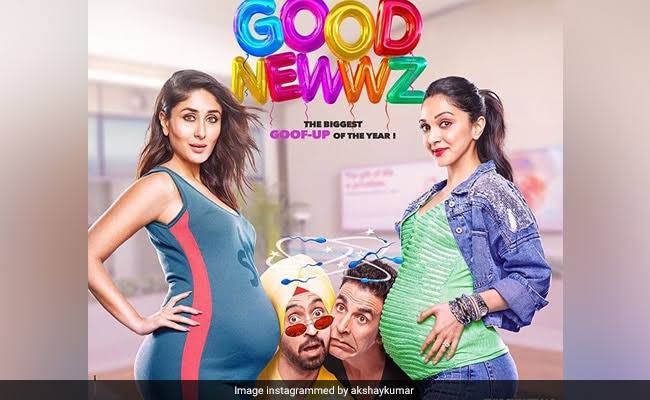 Good Newws is Happy News
Film: Good Newws
Date: 27.12.2019
Director: Raj Mehta
Writer: Jyoti Kapoor, Rishabh Sharma, Raj Mehta
Cast: Akshay Kumar, Kareena Kapoor Khan, DiljitDosanjh, Kiara Advani, Adil Hussain and Tisca Chopra.
Ratings: 3.5 stars
The trailer of the film very clearly prepares you for the story.There are two couples seeking IVF treatment at Dr Joshi's hospital in Mumbai – Varun– Deepika/ Akshay Kumar- KareenaKapoor Khan and Honey- Monika/ Daljit Dosanjh– KiaraAdvani and both coincidentally share a surname 'Batra'.
Both have been trying to have a baby for several years but it has not happened, Akshay and Kareena because they have been preoccupied with their careers and Daljeet– Kiara because shesuffered two miscarriages in the past. Dr Joshi is their final hope and destination and as luck would have it, the tests are positive.
It should be time for celebrations but there is a problem. The technical department of the hospital has mixed up the spermsbecause of the common surname, so Honey/ Daljeet's sperm is fertilized with Deepik/ Kareena's egg and Varun/ Akshay'ssperm with Monika/ Kiara's egg.
There are only two solutions to the crisis; the couples can opt to terminate the pregnancy or to accept the circumstances. After a lot of deliberation which included  suing the hospital and even seeking refund, the to be mommies decide to go ahead with their pregnancies and the film is all about their love- hate anxieties and pressures.
It is a novel concept and innovatively treated. What works about the film is the duration/ 2 hours plus, editing, writing, humor. The first half is comedy and moves super-fast, before you can blink it is interval. The second half is packed with emotion and drama but fortunately nothing is over the top.
Good Newws is probably the first film that seriously addresses pregnancy and related issues. In our country if you are married for seven years and there is no baby, the couple is subjected to parental/ societal and even spouse pressure; in short the baby is a topic of public debate. The discussion can be overwhelming but Good Newws addresses infertility, abortion, advance age, low sperm count and premature deliveries without being didactic.
A healthy child is a result of a healthy marriage and Good Newws promotes marital bonding and stress free life, alsoprofessionalism, because every character in the film is committed to their work. Kareena heads an entertainment magazine. Akshay sells cars, his sister and brother-in-law are criminal lawyers, Daljit and Kiara are show performers and AdilHussain– Tisca Chopra ( splendid in a cameo) IVF doctors!
The downside is that while we see the biological/ mental/ emotional/ moral/ social/ legal repercussions the couples go through, director Raj Mehta is unable to offer a solution to the problem in the climax. Probably because there is no solution to it and therefore ends the film on a happy, human note which is taking the easy way out.
If you can overlook this one feature, Good Newws is a full on entertainment with super chemistry and timing from all the four characters. Kiara Advani is delicious as Monika and AkshayKumar as effective in comedy as in emotional scenes, his sequence related with Kiara and bathroom is hilarious! KareenaKapoor looks stunning in every frame and delivers a fiery speech in support of mommies. Daljit Dosanjh is the life of the film, effective every moment.
Good Newws is a happy watch with friends and family in the New Year. I rate Good Newws with 3.5 stars.
Bhawana Somaaya
Watch out for my video/ audio review on @92.7BigFm