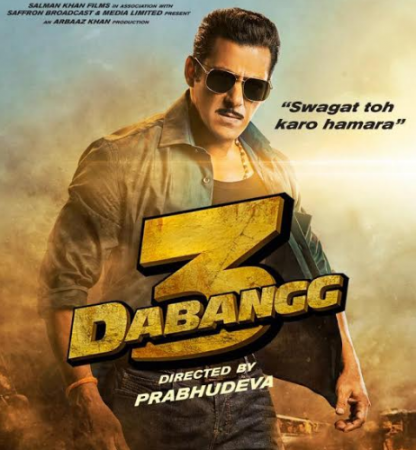 Prabhu Deva please restrict to dancing
Film: Dabangg 3
Release: 20.12.2019
Director: Prabhu Deva
Writers: Salman Khan, Prabhu Deva and Alok Upadhyaye
Cast: Salman Khan, Sonakshi Sinha, Saiee Manjrekar, Arbaaz Khan, Mahie Gill and Sudeep.
Ratings: 1.5 stars
The problem with franchises is that by the time the third installment is released, you have forgotten the plot and all the characters however that is not the case with Dabangg franchise for sure.
When Dabangg released in 2010 the producers had no idea they were going to turn it into a franchise but the story of a wayward cop Chulbul Panday/ Salman Khan and his unusual ways of resolving corruption in Uttar Pradesh caught the fancy of the audience in a manner they had never imagined. Made on a budget of 42 crores INR the film did a business of 2.19 billion, the producers decided it was time to announce a sequel.
Dabangg 2 set in Kanpur and directed by Arbaaz Khan released in 2012  and this time Chulbul Pandey fights with a crooked politician/ Prakash Rai who in turn attacks Chulbul's wife/ Sonakshi Sinha, a regular revenge story combined with songs and romance. This time the budget was bigger, 74 crores and the business 265 CR so the producers decided to take the franchise forward. Six years later Dabangg 3 is a prologue to the franchise and narrated as flashback by Khan. This time we are introduced to Khan's first love Khushi/Saiee Manjrekar and his first opponent Bali/ Sudeep the reason behind him joining the police force.
Chulbul Panday is now fearless man and kills his enemies in the climax, in 2010 it was criminal Cheddi Singh/ Sonu Sood, in 2012 it is politician/ Prakash Raj and in 2019 it is Khushi's murderer Bali/ South superstar Sudeep.
The first half of the film is insanely slow, old fashioned and rhetoric, reviving memories of the worst revenge dramas of the 70s. You wait in anticipation for something to happen, it does not. Post interval is a display of meaningless action at times in the villain's den and at times at the police station, what's pathetic is that the characters mouth the same old lines like 'Mere 500 karod de do aur tumhare 14 bande ko chuda lo.' Uff!!
This should not have happened because the story makes a sincere attempt to join in all the dots but  there's no attention to any details, subtext, sets, ambiance, character as a result everything appears fake and out of place. It is unfortunate because all the actors make a sincere effort. Debutante Saiee Manrekar is appealing and new villain Sudeep charismatic. Salman Khan and Sonakshi Sinha try their best to entertain you but nothing touches your heart.
Sad but true, Dabangg 2 was more engaging than Dabangg 3 and Dabangg so far was the best of the lot.
I have a request to make to director Prabhu Deva, you  are a skilled choreographer and we look forward to your dancing but can you please reserve your skills as a filmmaker for the South films please, can you please spare Hindi films???
I rate Dabangg 3 with 1.5 stars.