Everybody knows that Lata Mangeshkar became popular after rendering 'Aayega ayegaa aanewala …'for Madhubala in Mahal. She was a little girl at that time and to sustain her mood after several retakes the music director would tempt her with Cadbury chocolates. For a long time movie goers did not know her name because it was not a practice to announce the names of the singers on the radio at that time and a lot of people assumed that the song was sung by the actress Madhubala herself.
People were curious to know about the singer however and on public demand the All India Radio started giving information about the playback singers. Post the release of Mahal Madhubala made a condition in her contract that all her film songs will have the voice of Lata Mangeshkar.
That was the beginning of her journey and in time to come she was and continues to be celebrated as Goddess Saraswati of Indian cinema.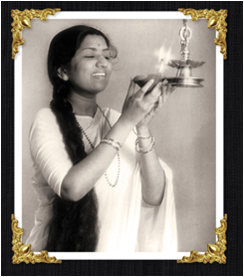 @bhawanasomaaya
My previous posts can be visited on the following link:
http://bhawanasomaaya.blogspot.in