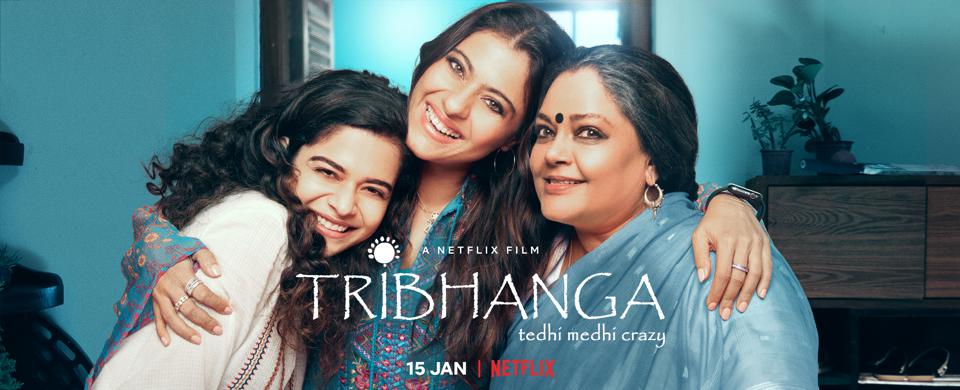 Must for mothers and daughters
Film: Tribhanga
Date: 15.01.2021
Writer-director: Renuka Shahane
Cast: Kajol, Kunal Roy Kapoor, Tanvi Azmi, Mithila Palkar
Stars: 3.5 stars
Legendary writer Nayantara Aapte/ Tanvi Azmi is in a video conversation with her biographer Kunal Roy Kapoor, when she suddenly collapses and is rushed to the hospital where she is declared brain dead. Her daughter Anu/ Kajol is about to make her entry on stage for a dance performance exits the green room and rushes to the hospital wearing her dance costume described as fancy dress by the media.
Tribhang is the story of a family, specifically about a mother and daughter who share a bitter, strained relationship and it is the manner in which the narrative is unfolded that makes the film an engaging watch.
Anu is a classical dancer and views life and relationships through dance positions and in her opinion, her mother, the legendary writer, lived her entire life in the Abhang Position, where the body shifts balance from one side to another, as a result, when Nayantara faced problems with her husband, she walks out on him with her children. When her second marriage fails, she discovers a new relationship and when that fails, she finds solace in alcohol.
Anu describes her daughter Maasha/ Mithila Palkar's practical choices of marriage and child as the Sabhang Position of Oddisi dance – where the body is equally balanced on both the legs. Maasha maintains a steady balance between her grandparents, uncle, aunt and her large joint family of in-laws with dignity and truth.
And finally, the Tribhang Position where the upper part and the lower part of the body are rhythmically tilted in opposite directions. As a celebrity and a single mother, Anu's life has been tumultuous loaded with controversies. As a child, she was uprooted from her father, as an adolescent, she disconnected with her mother and post pregnancy, she lost faith in men and marriage.
Detailed writing, engaging narrative, pace and performances are the positives of the film. The What the characters feel and how they express themselves, their costumes, locations, art, cinematography is all real and believable.
The negatives are some exaggerations, a working woman or a single mother in 1986 was not an issue. Some queries are unexplained like Anu's father Joshi was reluctant to keep the children after their divorce? The frequent flashbacks and flash forwards make a tedious watch, the climax is predictable and the foul language forced!
The take away from the film is that no matter how deeply you care, devote time and love your dear one, there is always a festering wound lurking somewhere and therefore before we judge, it is important to self-examine.
What makes the film special are the three women- the utterly natural Kajol and the dependable Tanvi Azmi on screen and writer/ director Renuka Shahane behind the camera. Tribhang is a must for all mothers and daughters and can be watched on the Netflix.
Bhawana Somaaya