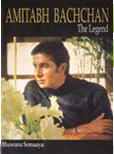 Most of the stories we read in childhood began with three famous words, long, long ago…
My story as an author began in the summer of 1999 when I penned a chronicle on Amitabh Bachchan profiling his life and times. The intention was not to write a book but to bring order into the many articles penned on the superstar. It was my publisher's idea that the visual artist layout the manuscript using the file pictures so that it has a better impact.
He did and we were surprised that we had enough material for a book. Amitabh Bachchan: The Legend is the first biography on a celebrity structured as conversation. When it was time to find publisher all of them insisted that I rewrite the content as prose. I disagreed because I wanted to retain the voice of the actor and also the voices of those who worked with him – his leading ladies and filmmakers. My publisher Macmillan India was hesitant initially but had to relent finally.
The 90s was an important era for journalism because it introduced computers and internet in India. The year 1999 ushered the electronic media and the first flash of the paparazzi, at that time understood as euphoria, was evident at the launch of my debut book in Mumbai when the cameras went crazy clicking the superstar.
I'm often asked how long it takes to write a book, it is always a difficult question to answer because I have always worked on my manuscripts along with my regular job as a journalist/columnist.
Follow me on Facebook, Twitter and Instagram  @bhawanasomaaya