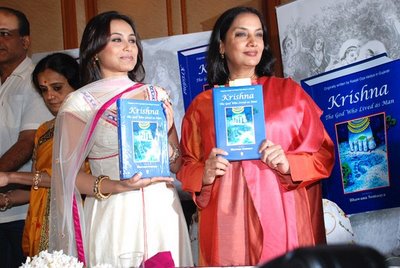 Raj Kapoor always said that every film has its destiny to which I will add that every book has its destiny.
Most of my books have been unplanned and before the release, faced innumerable challenges but then the clouds have cleared on their own and one has quietly moved on to the next manuscript.
I am often asked how I choose the subject of my books, it is a difficult question to answer because most often the books have chosen me. Out of the blue an idea triggers and the heart gives a nod.
In the year 2008 I was in between jobs when I happened to listen to an audio presentation of author Kajal Oza Vaidya's Gujarati book Krishnayaan describing his relationship with the three women in his life – Radha, Rukmini and Draupadi.
I loved the plot and was instantly attracted to the idea of translating it into English even though I had never attempted translations earlier.
I began working on the book feverishly because all of us – the author, publisher and me agreed that the English translation should be released on the Janmashtami day in Mumbai.
The spell of the magnetic deity during the writing is so special that I am superstitious talking about it.
And therefore all I will say about Krishna:The God who lived as Man is four things:
Lord Krishna was the eighth child of his parents.
I am the eighth child of my parents.Krishna The God who lived as Man is my eighth book released in the year2008 and this does not appear to me like a minor coincidence.Weapons cannot pierce through this soul and fire cannot burn it.
Water cannot drench it and the wind cannot dry it.
The soul is eternal and therefore cannot be damaged, burnt, drowned. It is ageless, timeless and therefore eternal.
– Lord Krishna