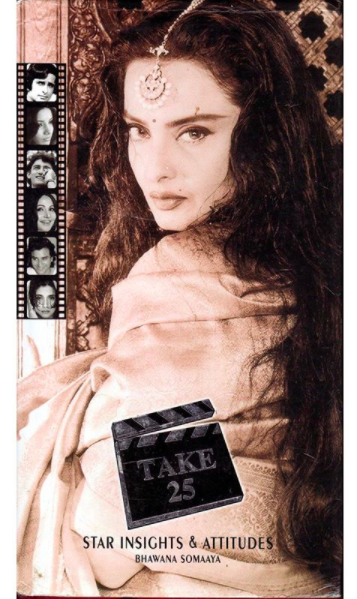 The idea for Take 25 came to me when I was clearing the attic at my old home and came across a suitcase preserved with cuttings of my published stories over the decades. This was before the computers came in naturally. I was filled with nostalgia re-reading the old quotes even though I did not identify with it anymore. Would the actors I had interviewed years ago, also feel the same way, I wondered and if not, is it fair that their expressions- sometimes volatile and emotional are archived forever?
The interactions and the issues raised reflect a significant phase in the actor's career and also the operative influences on the journalist representing the publication at that time, still, the final responsibility of the spoken word at all times rests with the artist. The quotable quote has a way of bouncing back into print, and always, when the star is going through a vulnerable phase.
Rekha has confessed that she no more identifies with her impulsive statements of the past. I'm sure most of them feel the same way, it is because words have a culture of their own and can annoy and make you anxious like people.
Sharmila Tagore has a solution for the ongoing conflict, she says that if at all time she is going to be held accountable for everything she speaks, then he'd rather refrain than regret her words. That should be a lesson for life for all actors.
Take 25 published in 2002 are my conversations with actors conducted over two and half decades of my career, when journalists recorded interviews on portable tape recorders and typed manuscripts on manual typewriters. Gradually as floppy discs and matchbox Dictaphones made way for computers and pen drives, my interest shifted from intimate conversations to the craft of cinema. Earlier I assessed the stars and filmmakers with personal observations, now I discovered them through their work, sab time time ki baatein hain, more about it tomorrow…. Cover Pic: Jayesh Sheth @jayessheth