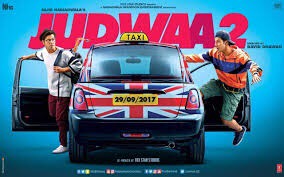 Film: Judwaa 2Release: 29.09.2017
Director: David Dhawan
Producer: Sajid Nadiadwala
Music: Sajid-Wajid
Cast: Varun Dhawan, Jacqueline Fernandez, Taapsee Pannu
Producer Sajid Nadiadwala and director David Dhawan's new release has a long history that needs to be recapped.
In 1992 Jackie Chan starred in a super hit film titled Twin Dragons that told the story of twins separated in childhood. In 1994 the subject was revisited as Hello Brothers in a Telegu film and in 1997 director David Dhawan combined the two plots to present Salman Khan in a double role as Judwaa.
Now 20 years later director David Dhawan has repackaged his old super hit to present son Varun Dhawan in Judwaa 2.
It is the same story with almost similar characters which means there are 2 heroes, 2 heroines, 2 police, 2 set of parents and some villains. Some sequences are identical and a popular number from the original has been replayed for nostalgia as well.
So what have changed are the actors, their circumstances, costumes, locations and attitudes!
Last time Anupam Kher played the cop, this time he plays the heroine's father. Last time Anu Malik created the background score, this time Sajid Wajid make you dance to their tunes.
The director's intention then and now is to entertain, the point is do you agree with his brand of de stressing?
If you relished David Dhawan's 90s Judwaaa then you can without a worry book 9 to12 or any show and get entertained by a flawless Varun Dhawan.
If not then you aren't a David Dhawan fan and I have just one line to sing to you: 'Tan tana tan – tan tan tara'.
I rate 2 Varun Dhawan starrer Judwaa 2 with 2 stars.
@bhawanasomaaya