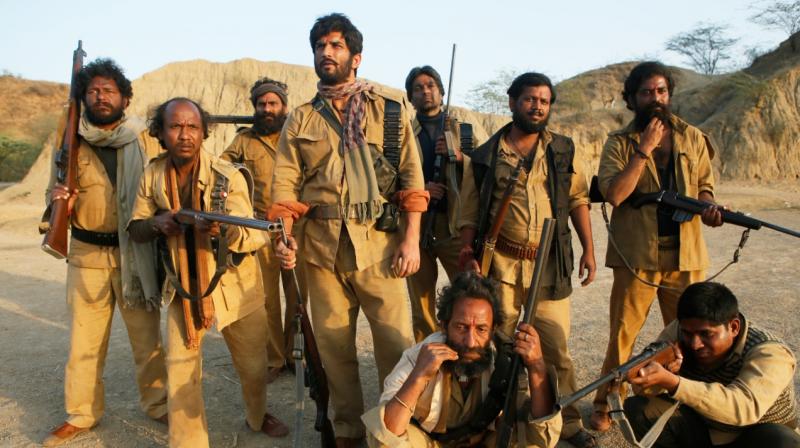 Film; Sonchiriya
Date: 01.03.2019
 Producer: Ronnie Screwala
Director: Abhishek Chaubey
Writers: Abhishek Chaubey SudeepSharma/ story Sudeep Sharma/ screenplay, dialogues
Cast: Manoj Bajpayee/ Dadda, Sushant Singh/ Lakhan, Bhumi Pednekar, Ranvir Shorey, Ashutosh Rana.
In Ishqiyaan/ 2010 and sequel Dedh Ishqiyaan/ 2014 Abhishek Chaubey was a revelation, in Uddta Punjab/2016 the filmmaker had you in a daze and in Sonchiriya/ 2019 he has you addicted to his cinema.
Set in the ravines of 1970's Chambal, the film is about a gang of dacoits led by Maan Singh / Manoj Bajpayee fondly addressed as Dadda by his boys as they battle with the cops, each other and their own conscience.
The reason Sonchiriya is not a regular dacoit film is because it's focus is not just on crime but the aftermath of it. The story travels into the mind of the perpetrators of crime rather than their action.  They are unhappy living the life they do and in moments of quietude dream of a peaceful, normal life.
Abhishek Chaubey's outlaws are a principled bunch with a strong sense of right and wrong. They will not fire at women and children and if they do by mistake, they will do penance. They will not hurt animals intentionally and if that happens, they seek forgiveness, visit the shrine to seek blessings of mother goddess.
Shot across the barren valleys of Madhya Pradesh, the director travels you through the heartland of India using Sonchiriya as a metaphor – the bird everyone longs to own but nobody can – happiness!
It is a film about criminals but the presentation is poetic and seeks answers in the laws of nature… Snakes prey upon mice and the vultures prey on the snakes.
All the characters are inward looking and the dialogues sensitive. 'We can wear the best medals but all of us die in our natural uniform, naked' comments a cop while Sushant Singh in a poignant asks that he can run away from people but how does he escape his conscience?
There is a haunting feeling of remorse throughout the film highlighted by the background score that pierce your heart. The film addresses multiple issues – caste, class, gender, superstition, poetic justice that if you have harmed others you will be doomed too!
Superbly shot and delicately written Sonchiriya is a triumph of combined efforts – editing, music, production design, costume and stellar performances from ensemble cast -Manoj Bajpayee, Sushant Singh, Bhoomi Pednekar, Ranvir Shorey and Ashutosh Rana including the little girl who does not speak a single word.
If you are looking for escapist entertainer Sonchiriya is not for you. Chaubey's cinema is about ravines and redemption; dark secrets and debts. His characters walk miles, sleep on rocks and survive in one costume. Sonchiriya is an emotional catharsis
I rate Sonchiriya with 3.5 stars.
@bhawanasomaaya