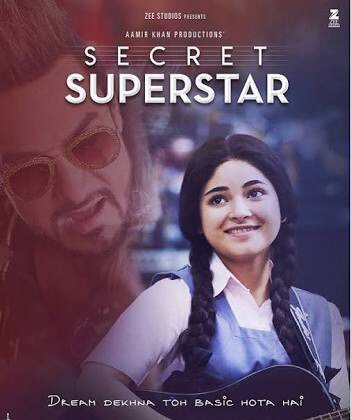 Film: Secret SuperstarRelease: 18.10.2017
Producer: Aamir Khan
Director: Advait Chandan
Cast: Zaira Wasim, Meher Vij, Aamir Khan
Music: Amit Trivedi
Insiya/ Zaira Wasim lives in a lower middle class colony in Baroda with her parents, younger brother and grand aunt. She studies in a co-ed school and also attends a coaching class even though her parents cannot afford the additional expense.
When home, Insiya is either surfing music channels on television or playing guitar composing new melodies.
Insiya's mother/ Meher Vij sells her jewelry to gift her daughter a laptop and a whole new world opens up for the 15 year old. Insiya uploads her album on the YouTube and becomes an overnight sensation praised by superstars on social media and contacted by top music director Shakti Kumar/ Aamir Khan inviting her for a recording to Mumbai.
Secret Superstar is a story of Insiya's singing aspirations but also her rage towards a patriarchal society discriminating between men and women. In some ways the film is reminiscent of Hrishikesh Mukherjee and Basu Chatterjee's middle of the road cinema during the 70s and 80s that focused on everyday happenings and awakened our conscience.
Insiya's story begins with abuse and oppression at home and travels the by-lanes of religion, custom and law to question our dormant society.
What works in favor of the film is essentially the story, the emotional narrative, natural dialogues and remarkable characters. All the performances are effective. Mona Ambekar as a lawyer stands out in a cameo, Aaamir Khan as the obnoxious music director is a riot, Zaira Wasim of Dangal proves yet again that she is special and the surprise packet of the film Meher Vij cast as Insiya's adorable Ammi.
There are sparkling moments in the film, sparkling lines, a lot of heart and pathos. Amit Trivedi's music is refreshing and new voice Meghana Mishra excels as alter ego.
On the downslide, Insiya's success is over simplified; the climax over exaggerated and the journey a forgone conclusion but all this can be overlooked because the narrative is emotionally powerful and addresses multiple issues ranging from marital abuse, gender discrimination, minority and show business!
Secret Superstar is devoid of big budget, big stars, lavish sets, entertaining choreography and glamorous costumes but it has a soul, it has the flight of a courageous daughter and even a more courageous mother and their precious dreams.
In the closing of the film Aamir Khan looks into the camera and states: If you approve of the film like it and if you don't, change your taste.
I like the film and rate Secret Superstar with 4 stars.
@bhawanasomaaya