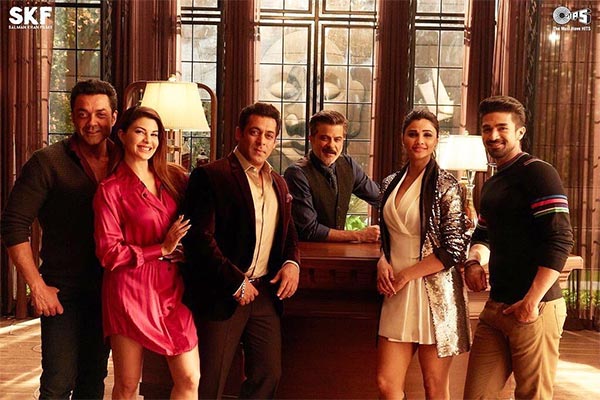 Film: Race 3
Date: 15 June 2018
Director: Remo D'Souza
Writer: Shiraz Ahmed
Cast: Salman Khan, Anil Kapoor, Jacqueline D'Souza, Daisy Shah, Bobby Deol, Saqib Saleem, Freddy Daruwala
For those who have not watched 2008 Race shot in South Africa and 2013 Race 2 shot in Turkey Race 3 showcases a new hero/ writer/ director and location but the plot is once again the family and their quest for power.
Once again there are opulent mansions, magnificent cars, dance, drama, full on parties and daredevil stunts that never stop.
Helicopters appear in the sky faster than taxis on roads and at the click of a trigger, men, buildings and vehicles are blown into fireballs.
The minus of the film is the unusually drab music and the incomprehensible lyrics. Granted it is a thriller but the screenplay could have been more imaginative. The narrative, in this case, unfolds like a school play where every character tells his story.
Unfortunately, in their bid to make it larger than life everything – action and emotions are exaggerated and over the top.
There are major continuity flaws: Shamsher Singh/ Anil Kapoor in a chase sequence breaks his car door and uses it as a shield, post the fight however he locks the same door and speeds away.
Sanjana/ Daisy Shah performs a major action sequence wrapped in a tight dress and high heels, when she gets uncomfortable Daisy picks a knife and skillfully slits her costume for more leg movement. That's not all, in a jump sequence the pencil heels conveniently transform into sandals.
There is no explanation for Yash/ Bobby Deol's character, who arrives out of the blue and becomes a major player in the game. There is no explanation why Sikander/ Salman Khan and later Jacqueline Fernandes are blessed with extra-ordinary powers to fly in the sky a la Batman.
The plus of the film is the scale, pace, locations, cinematography, production values and the twists and turns in the characters which are the USP of the Race franchise.
Should you watch Race 3? Absolutely, because sometimes, it is important to give your heart and mind some rest and once in a while comes a film that is so crazy. Race 3 is so absurd that it is  cathartic, so stretch your legs and relish the exotic locations made memorable by Anil Kapoor's marvelous performance.
One more thing, this time it is not just Salman Khan but also Bobby Deol who goes topless so wait for the whistle moment in the climax when the heroes fling their shirts out to fight together.
I rate the unpretentious and thoroughly entertaining Race 3 with 3 stars.
@bhawanasomaaya