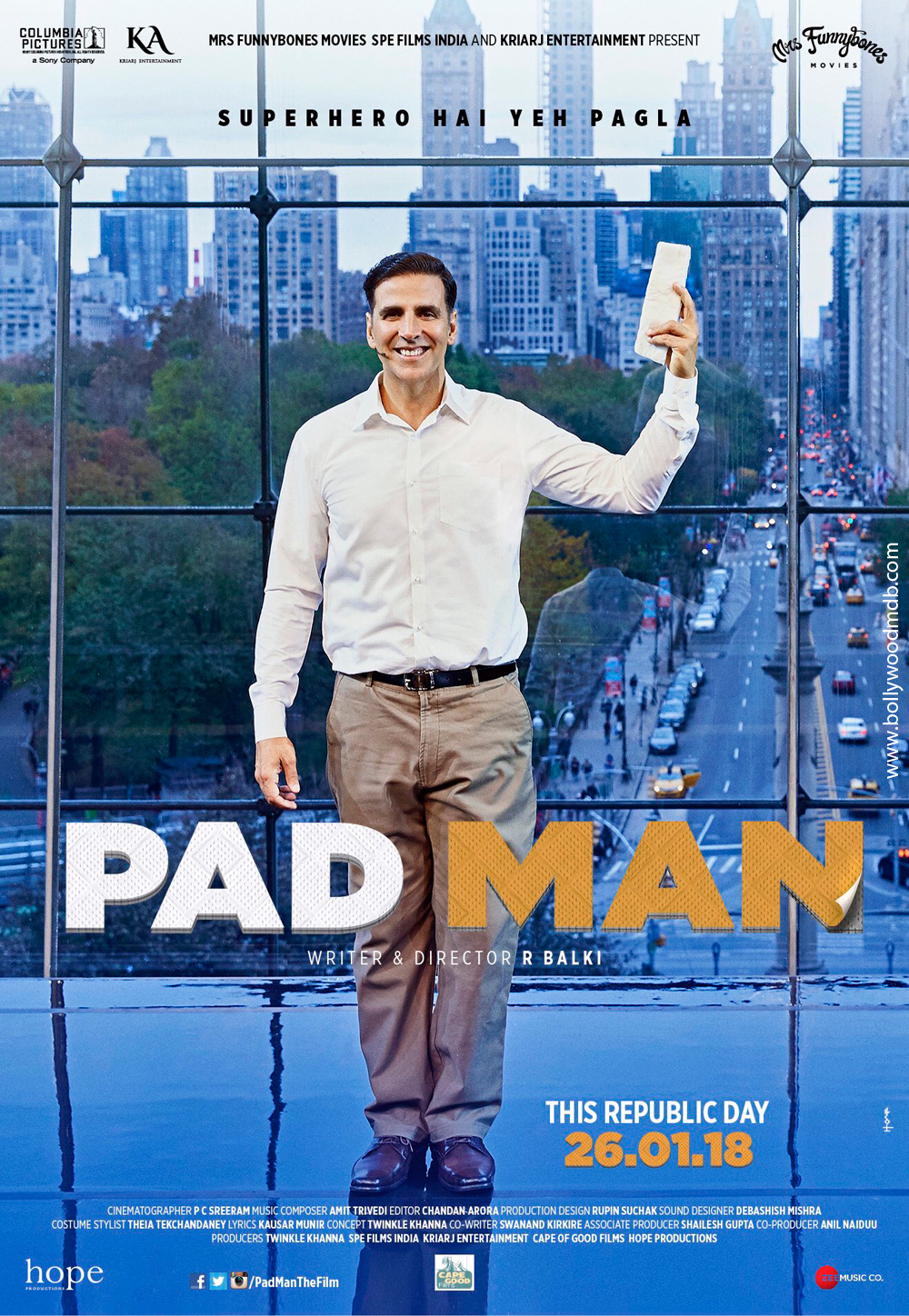 Film: Pad Man
Date: 09 February 2018
Writer/Director: R Balki
Producer: Funny Bones Production
Cast: Akshay Kumar, Sonam Kapoor, Radhika Apte
Gayatri/ Radhika Apte is on the giant wheel with her husband when she senses something amiss…
In another city, Rhea/ Sonam Kapoor is in the middle of a concert when she suddenly turns pale…
For both, it is that time of the month and as always it has come unannounced.
Pad Man is the story of Gayatri, Rhea and millions of women but primarily the story of Lakshmikant/ Akshay Kumar who lives in a remote town with his aging mother, wife and two sisters.
It is the family tradition that a menstruating woman must stay 5 days in isolation. Lakshmikant disapproves of this. He wants to safeguard his wife and sisters from infection and taboo but he is scoffed at and shunted by everybody.
In my opinion, there are 4 major reasons for watching the film:
Path-breaking subject: Subjects like these are usually featured as documentary or as adv films. Producer Twinkle Khanna pitches Tamil Nadu's social activist Arunachalam Murgunanthanm as a mainstream hero and makes Pad Man world's first feature film on menstrual hygiene.
Spreading awareness: For centuries we've cloaked the topic in intrigue and superstitions, for the first time comes a film that liberates a woman from age-old conventions. Pad Man spreads awareness in villages and small towns, enlightens men, empowers women, educates children, engages professionals as in doctors/manufacturers in a techno- digital new India.
Raises issues: Yes, it is the story of a woman's biology but the one fighting for her dignity is a man. Lakshmikant Chauhan challenges his family, neighborhood, society/ religion/ tradition, willing to be ostracized but unwilling to give up on his goal.
Performances: As Gayatri, Radhika Apte and as Rhea, Sonam Kapoor are effective foils to a courageous protagonist Akshay Kumar who absorbs Lakshmikant without the slightest inhibition and breaks the audience's defenses as well.
R Balki's Pad man is sensitive, emotional, engaging, responsible, courageous and entertaining. It is a film you can watch with your entire family.
I rate Pad Man with 4 stars.
@bhawanasomaaya
Pad Man was envisioned to an be awareness film without focusing on commercial aspects. The producers' main agenda was to reach out to a wide audience to create awareness and eradicate prevalent superstitions in India surrounding sanitary pads.