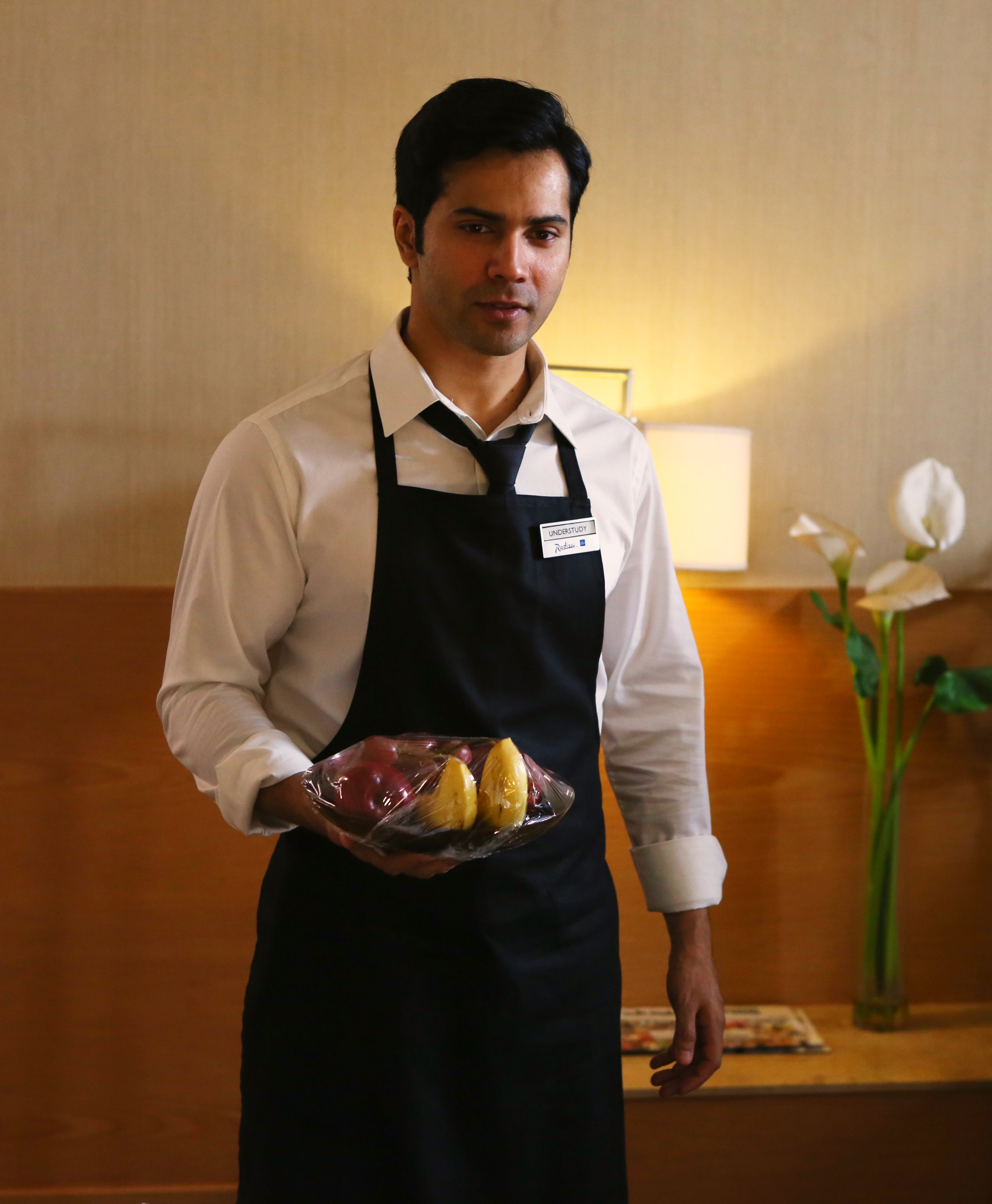 Slow, silent and sensitive
Film: October
Date: 13 April 2018
 Director: Shoojit Sircar
Writer/Screenplay/Dialogues: Juhi Chaturvedi
Cast: Varun Dhawan, Banita Sandhu, Gitanjali Rao
The film opens to the grandeur of a Seven Star Hotel as guests walk into the lobby and inquire about their rooms.
Behind the dazzling lobby and the sparkling wine glasses on the dressed up dinner tables are the overstressed, overworked trainees going through the daily grind of cleaning, swabbing, cutting, chopping, laundering and making beds for the guests.
They work late and long hours and return exhausted to a poky rented apartment shared by many, eat boiled rice with pickle and fall asleep.
On duty, they are forever watched by the cameras and told time and again by the boss that if they are expelled from training for misconduct or poor performance they would have to pay a penalty of rupees 3 lakhs.
This keeps most of them on their toes except the forever distracted Dan/Varun Dhawan who is characteristically negligent and suffers from unexplained misplaced aggression.
A tragedy occurs in the hotel which affects all the trainees and transforms Dan forever.
Director Shoojit Sircar has claimed in all his interviews that October is not a love story but a story about love. This is true…
One can describe October as a story about relationships where strangers bond over a crisis or as a story of changing seasons where fragrant flowers blossom after the dry leaves wither away in autumn.
Or better still, as a story of everyday struggle.  Dan works by day at the hotel and spends the night watching over Shiuli/ Banita Sandhu at nights and you discover that there is a lot in common between the two surroundings – the sound making machines, the systems, and people.
The merits of the film are the characters, the writing, the humor, music and lyrical cinematography. The demerits are the slow pace, a deliberately delayed narrative and a predictable end.
In his 13-year-old career, director Shoojit Sircar has addressed rare issues and broken many rules. His Yahaan 2005 was about Kashmir, Vicky Donor / 2012 about infertility, Madraas Café / 2013 about Sri Lanka, Piku / 2015 about a hypochondriac single father and Pink / 2017 about rape!
In October Sircar treads a comparatively simplistic terrain devoid of intrigue or complexity and like always extracts strong performances from the team, Banita Sandhu and Gitanjali Rao as Shiuli's Amma.
Varun Dhawan emerges as a dependable actor be it Badlapur or Judwaa 2 and embraces Dan with a rare curiosity and an innocence that touches our hearts.
October is not everyone's idea of entertainment, but for those seeking quietude and the fragrance of flowers, this is a soothing experience.
I rate October with 3.5 stars.
Bhawana Somaaya