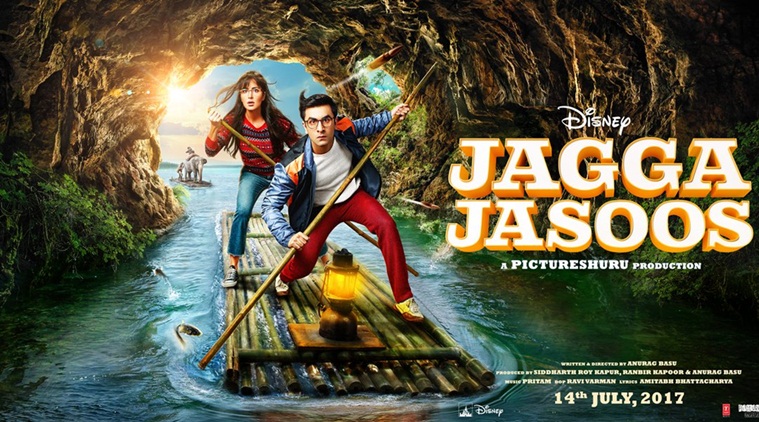 Film: Jagga Jasoos
Date:   14 July 2017
Writer/ Director: Anurag Basu
Music: Pritam
Stars:  Ranbir Kapoor, Katrina Kaif, Saswata Chatterjee
Ratings: 2 stars
I have often wondered why a film that has been in the making for too long somehow never appeals to the audience. Does the film get delayed because the people making it lose interest or does the delay become the cause of the loss of interest among those involved? It is a mystery I have never been able to resolve. One thing is certain however the audience always senses the vibration of a film they somehow always know instinctively what's going to work for them and what's not.
Jagga Jasoos is the story of a lovable orphan raised in a hospital, until one day he finds a Godfather/ Bagchi who brings him home and fills his life with care.  The paradise is short lived because Bagchi/ Saswat Chatterjee has a secret mission to fulfil and admits Jagga into a boarding school promising to fetch him soon but never comes back. Months roll into years and now Jagga is a big boy/Ranbir Kapoor who has a nose for mystery and his friends call him Jagga detective.
At the onset, it has to be said that Jagga Jasoos is not a regular film. It is scripted like a play and shot like an opera where characters break into a jig and song every time they need to express themselves. Initially, it is all very attractive and we are drawn into the meadows and the melody, the yellow fields, the singing birds, the grazing animals and the mesmerising nature but after a while, the one-dimensional characters and the monotony of the treatment become a tedious watch.
When Jagga does not receive his annual courier from his father he sets on a distant journey to find him and accompanying him is his new friend, accident prone journalist Shruti Sengupta/ Katrina Kaif. The second half of the film travels to exotic locations and combines action an adventure but we are not entertained because the narrative is dull and far from engaging.
As Ranbir's father Saswat Chatterjee delivers a convincing performance but the normally dependable Saurabh Shukla has no scope to shine. Katrina Kaif looks visibly disinterested and Ranbir Kapoor mysteriously lacks the zing! Just a few years ago director Anurag Basu and Ranbir Kapoor together gave us Barfee that we have yet to recover from. Now they bring us Jagga Jasoos after a three-hour watch I have yet to recover from!!
Watch Jagga Jasoos only if you are a Katrina- Ranbir fan so that you can resolve the mystery what went wrong and why. I failed and therefore rate Jagga Jasoos with 2 stars.