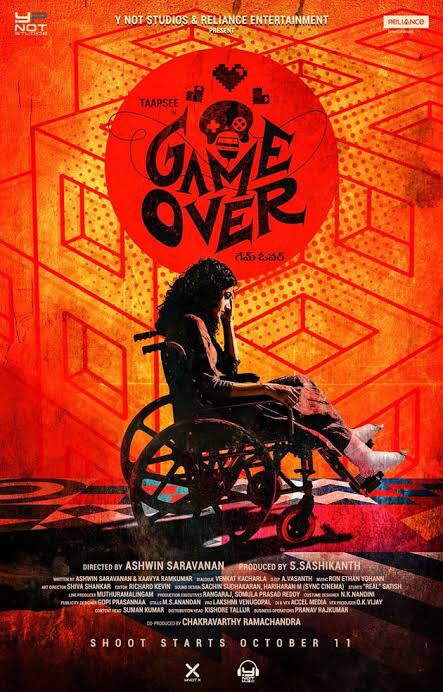 Game Over guarantees palpitations
Film: Game Over
Date: 14.06.2019
Director: Ashwin Saravanan
Writers: Ashwin – Kaavya/story/ screenplay, Shruti Madan/ Hindi dialogues
Cast: Taapsee Pannu
A young girl orders food and to facilitate the delivery boy, she comes down to get the parcel. She eats her dinner sitting in front of the television and in the morning she is beheaded and burnt, the details of her torture posted on a video that goes viral.
The second target is already a victim. She can barely sleep, is seldom hungry and is paranoid of darkness. She is claustrophobic and anti-social to a point that she does not step out of the house until absolutely necessary.
Swapna/ Taapsee Pannu creates video games for corporates on condition that she will operate from home and will not visit the office even for a presentation. She has a caretaker calledKalamma who is as faithful as a shadow and singlehandedly looks after Swapna and her sprawling mansion.
The film tells the story of the year 2017 when Delhi's serial killer raped, beheaded and burnt bodies of young girls living alone in the city. First thing first, Game Over is not for the weak hearted because on the pretext of warning us the filmmaker goes all out to terrorize you with his unusual horror-thriller genre.
The merits of the film are the cinematography, tight editing(only 1.5 hours) the production design and the extra-ordinary treatment. The demerits include some repetitions – a significantsequence is replayed three times and third time is far from effective. Some misplaced superstitions like tattoos bring you ill luck and some exaggerations that girls who party late night invite trouble, I mean who takes these things seriously?
Some things about the film are disturbing for example, why do Swapna's parents keep calling and nagging her, why don't they visit her when they know that their daughter is terriblydisturbed?? Also, isn't it rather unusual that for a girl who is inaccessible a complete stranger walks into her living room and shares her darkest secret?
Considering Swapna is still fighting the demons of an earlier trauma it is unnatural that she chooses to live far away from the city in a remote bungalow and has no contact with any neighbor/ friend/ colleague except the caretaker and a security guard outside!
She is so vulnerable that she cannot meet her counselor without her escort, then how come she strolls into a coffee shop and even eavesdrop to strangers' conversations? There are too manyquestions unanswered and too much fear, often unnecessarily lurking in every scene. Watch the film only if you are a horror/ thriller genre fan or a Taapsee Pannu fan because she is gorgeous as always.
Game Over guarantees palpitations and sleep deprivation, enter the auditorium at your own risk. I rate Game Over with 2.5 stars.
Bhawan Somaaya