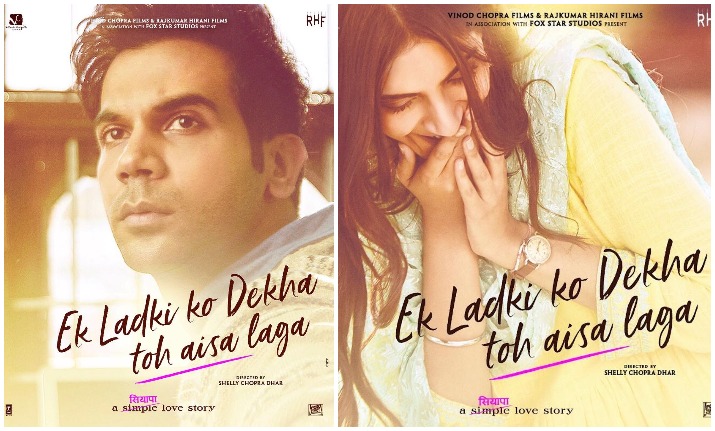 Release:  01st February, 2019
Director: Shelly Chopra Dhar
Writer: Gazal Dhaliwal, Shelly Chopra Dhar
Cast: Anil Kapoor, Sonam Kapoor, Rajkumar Rao, Juhi Chawla
There are many ways to define Ek Ladki Ko Dekha Ton Aisa Laga, you can call it a story of love, of family, of society, of loneliness and quest for happiness. The first half of the film concentrates on establishing Balveer Chaudhary/ Anil Kapoor and his family. Balveer Chaudhary referred to as Mukesh Ambani of Moga, Punjab is the owner of garment factories but his heart is forever in the kitchen. He wanted to be a chef but was not allowed to and so remains passionate about collecting recipes and cooking.
Balveer's mother, Biji is a super savvy and super confident woman who is passionate about Hindi films and Hindi film heroes, celebrates her birthday with a DJ and cuts a cake which has pictures of Dharmendra and Sanjeev Kumar. The domestic staff of the family is passionate about betting. Every small and big thing that happens in the household is a matter of making some fast buck for the staff.
The elder son of the family is passionate about keeping an eye on his younger sister and the sister Sweety/ Sonam Kapoor is passionate about Kuhu. Writer Raj Kumar Rao falls in love with Sweety at first glance but Sweety explains to him that romance without siyappa/obstacles cannot have any 'true feeling' in the love story.
The problem with Ek Ladki Ko Dekha… is that there are too many obstacles/ siyapas: The narrative is un-engaging and the climax we have seen many times before. The characters are predictable, the pace too slow and the performances lack-luster. It is misleading whether Veerji knows the truth or not and if he does, why he took so long to come to the point?
It is unconvincing that Sweety can discuss her education plans with her rather friendly father but cannot share her other problems with him? Daddyji/ Anil Kapoor  is so simple that he summons the entire family to the office chamber so that he can discuss Sweety's boyfriend  in private but when it comes to a more sensitive issue in the climax, the family is far from discreet and would rather debate it in front of a large audience with band baja, why??
Juhi Chawla and Sonam Kapoor don't make an impact so it is left to the ever dependable Anil Kapoor to hold the fort, ably supported by Biji and Seema Pahwa. Unfortunately, the film never picks up. There are beautiful mustard fields, large mansions, picturesque Gurudwara, dance drama, food and a pinch of romance but nothing touches the heart!
If I have to say it in Sweety's language 'dil touch karne wali baat nahi banti'. In 1994 Anil Kapoor's sang praises to Monisha Koiral in 1942 A Love Story and evoked many emotions. In 2019 the same song leaves you untouched.
I rate Ek Ladki Ko Deha Toh Aisa Laga with 2 stars.
Bhawana Somaaya