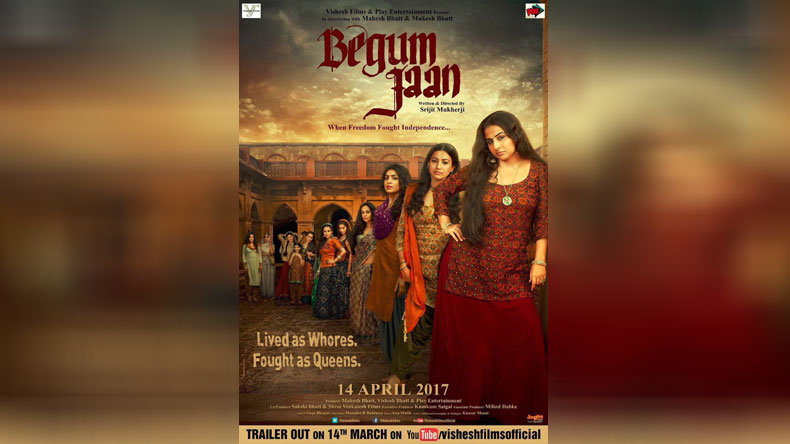 Film Review: Begum Jaan
Date: 14 April 2017
Producer: Vishesh Films
Director: Srijit Mukherji
Cast: Vidya Balan, Ila Arun, Naseeruddin Shah
Rating: 2.5 stars
In 2015 Srijit Mukherji made Raj Kahani in Bengali starring Rituparna Sengupta which told the story of independence when Sir Cyril Radcliffe divided India-Pakistan into equal halves. What the administration was not prepared for was that the dividing line would run through the middle of Begum Jaan/ Vidya Balan's brothel situated away from the town on the border.
Now two years later, filmmaker Srijit Mukherji has remade his Bengali film in Hindi as Begum Jaan with a few changes. While Raj Kahani started in British India and ended in 1947 Begum Jaan opens in present times and goes into a flashback.
In 70 years of independence, we have watched many stories of freedom struggle, some from a religion perspective, some from social perspective, some political and some human stories! This is the first story to present a female gaze.
Begum Jaan is warned about the decision by INC and the Muslim League, but she pays no heed because she has the king/ Naseeruddin Shah by her side, however as the climate changes and the kings and leaders are reduced to pawns, Jaan knows that she has nobody to depend upon except herself and prepares for the fight.
What work in favor of the film is the unusual plot, the music, and the ambiance! What doesn't is the gimmicky frames and the recurrent flashbacks. If only the writer had sketched other characters as passionately as his protagonist. There are eleven attractive girls in the brothel and half a dozen interesting men outside but at the end of two and half hours, you know very little about anybody except the brothel madam.
Also considering that it is a vulnerable time for the country and the brothel, the narrative should have gripped you emotionally engaging instead you remain cold and unaffected by the consequences.
Director Mukherji is visibly influenced by Shyam Benegal's Mandi but while the 1983 release was both entertaining and path breaking, Begum Jaan is one tracked narrative devoid of real drama or emotion!Even the climax where the women collectively fight their oppressors from within the fortress is a pale protest compared to the fight put up by the spice girls in Ketan Mehta's Mirch Masala.
Watch Begum Jaan only if you are an ardent fan of Vidya Balan. I rate Begum Jaan with 2.5 stars out of which half star is for Vidya Balan.
Follow me on Facebook, Twitter and Instagram  @bhawanasomaaya