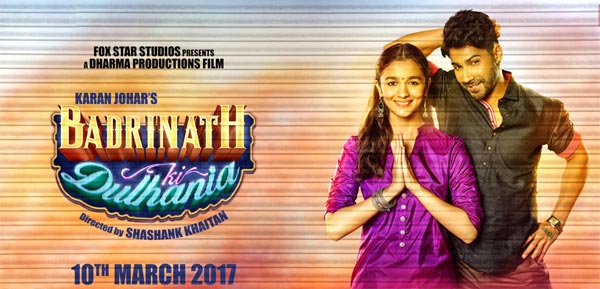 Film Review: Badrinath Ki Dulhaniya
Date: 10 March 2017
Producer: Hiroo &Karan Johar, Apoorva Mehta
Director: Shashank Khaitan
Cast: Varun Dhawan, Alia Bhatt
Rating: 3 stars
The film opens with a long narrative explaining the legacy of the feudal Bansal family and just when you heave a sigh of relief that the mundane introductions are over, you are treated to another history of a nuclear and modest Trivedi family.
Next, there is a wedding in the offing and our hero/ Badrinath Bansal that is Varun Dhawan travels from Jhansi to Kota to accompany the bridegroom and meets the heroine/ Vaidehi Trivedi that is Alia Bhatt who is a family friend of the bride.
What follows is anybody's guess, the hero and heroine dance during the baraat and the hero promptly loses his heart to the heroine.
Badri is a school drop-out and in no hurry to join his father's business so has plenty of free time and drives every day from Jhansi to Kota to follow Vaidehi walking/ cycling from college to home.
Badri is determined to marry Vaidehi and it does not remotely occur to him that Vaidehi may not be interested in his proposal. To an extent the idea is funny but gradually you learn that it is a story of diversity.
Over the decades, we have been exposed to several love stories featuring diverse partners where a superior Vyjantimala has rejected an apparently unworthy Uttam Kumar in Chotti si Mulaqat or an arrogant Biswajeet has condemned an illiterate Mala Sinha in Pyaar Ka Sapna and both have risen to the occasion…
Similarly, there have been stories of the privileged Nanda in Jab Jab Phool Khile and Karisma Kapoor in Raja Hindustani who have groomed a bumpkin Shashi Kapoor and Aamir Khan in order to be socially accepted…
Badrinath ki Dulhaniya is a departure from all these because it is not about external transformation but about a change in mindset. Unfortunately, it takes dreadfully long to come to point.
The screenplay travels from Rajasthan to Singapore without any heartache, memorable music or moments. The film is devoid of any passion and the long fight sequences often misleads you into believing that there will be a change in track but that never happens.
Badrinath Ki Dulhaniya is an extension of the director's Humpty Sharma Ki Dulhaniya released and which makes me ask why Shashank  Khaitan chooses to make another film with the same cast and identical title?
The only thing that works about Badrinath Ki Dulhaniya is Alia Bhatt- and Varun Dhawa and the 5 point message:
One, girls are not for sale in the marriage market. Two, girls have a right to refuse dowry to their in-laws. Three, she has the choice to decline the candidate if she finds him unworthy of her. Four, she has a right to refuse marriage if she is not ready for it and finally, she is at liberty to change her mind whenever she wants.
So just for the powerful message and the presence of the lead pair, I rate Badrinath ki Dulhaniya with 3 stars.