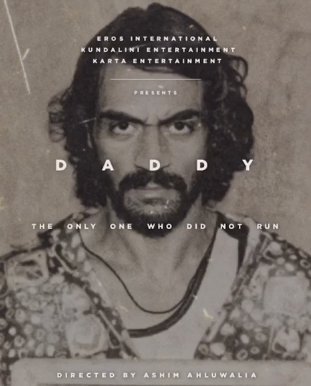 Producer: Arjun Rampal, Rutvij Patel
Director: Ashim Ahluwalia
Writer: Ashim Ahluwalia, Arjun Rampal
Music: Sajid–Wajid
Starring: Arjun Rampal, Aishwarya Rajesh, Nishikant Kamat, Farhan Akhtar
Daddy is the story of how a mill shut down in the in Central Mumbai in the 70s destroyed the lives of the daily wagers and their families and among them is Arun Gulab Gawli/ Arjun Rampal. When Arun arrives at the mill to deliver his father's tiffin and is prohibited, he gets into an altercation with the supervisor and strikes him hard with his tiffin box.
It is the first expression of accumulated frustration festering within Arun and his friends who spend all day playing carom and chatting about neighbors. They desperately need a source of livelihood and are introduced to gambling popularly referred to as matka but short cuts come with a baggage and when one of them is murdered, they decide to take revenge and become serious criminals.
Babu, Rama and Arun discover they are a gang when they are summoned by bhai/ Farhan Akhtar's trusted aide for a supari. The mission is accomplished but Arun gets arrested and set free the same night on bhai's behest. The first half tells about Gawli's growth as a don and the second half of his transforming into a messiah popularly referred to as Daddy.
First thing first, the film endorses it is a true story and maintains name and location of the characters. From Dagdi chawl and Dongri in the 70s to Rajya Sabha in 2000 Daddy travels four decades and presents the changing face of Bombay to Mumbai when vehicles were smaller and roads broader, when phone dials rotated and TV sets came out of a box, when youngsters wore long hair and state police dressed in ink uniforms.
The positives of the film are the detailed production design dotting the crowded gullies and the gang operating from dingy caves. Adding mystery to the plot are the characters, their authentic locations/ costumes, music, language and deliberately dry narrative. Co-written by Ashim and Arjun Rampal Arun Gawli is portrayed without apologies or justification and with all his flaws including his addiction.
The negatives are the excessive violence, the suffocating dim lighting and inaudible, mumbled dialogues. The film appears longer than it is because it is heavy in content without any trappings of comedy or dance. Some films are designed for entertainment, some to deliver the message, Daddy is to acquaint you with the protagonist who is a victim of his circumstances.
In my opinion, there are three reasons for watching Daddy. It stars two remarkable filmmakers, Nishikant Kamath and Farhan Akhtar as a cop and criminal and both do a super job! Arjun Rampal debuts as co-writer and finally post Rock On, Daddy is Arjun Rampal's best performance of his career.
I rate Daddy with 3 stars.