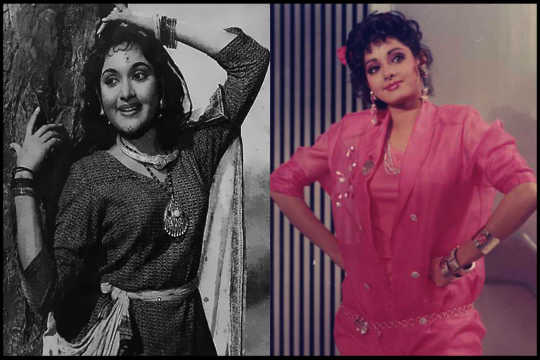 It was not sufficient for the heroine to be a competent dancer, she had to be able to fit into all situations, costumes and dance formats be it peppy, frothy numbers or pure classical compositions.
In 1957 Vyajantimala played a street artiste who put up puppet shows and often danced like a puppet to engage her customers, remember 'Bol re kathputli boli' while this dance established herself as a  front runner, she had to wait a long time to portray a classical dance and the opportunity came in Amrapali where she played a rajnartaki.
In 1987 Sridevi disguises as a Hawain girl to gyrate to a peppy 'Hawa Hawaii' in Mr India when she invades the villain's den and unlike Vyajantimala  Sridevi never got to perform a pure classical dance but Jaag Utha Insaaan came close to it.
To be continued
@bhawanasomaaya