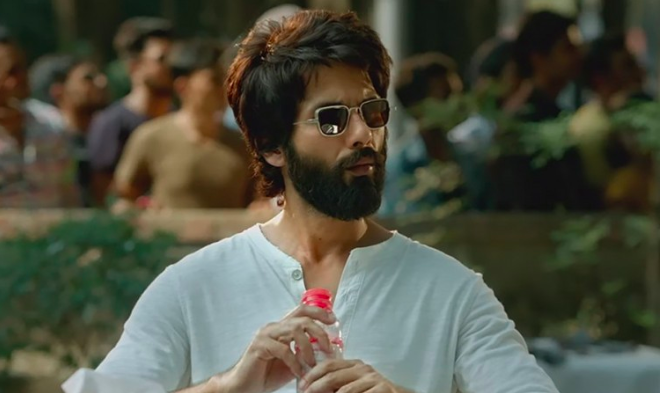 He is disheveled, uncouth and impossible to communicate with. He drinks alcohol literally from the tank, fills up multiple glasses and falls asleep in his doctor's uniform at a local dhabba. When he is angry he bashes up people, when he is hot he dumps ice cubes inside his pant. In a particular scene, he approaches a female patient and asks for a favor and when she does not comprehend he specifies he wants sex.  He is abrupt to a point of being obnoxious and self-indulgent to a point of nausea.
Meet Kabir Singh, the Hindi remake of 2017 Telegu blockbuster Arjun Reddy. The most striking thing about the film is the raw energy and overwhelming passion. Here is a story of a rebel doctor unable to contain in love. The background score is equally wild and hammers on your head racing your heartbeat. The intention of the filmmaker is to rattle you and Kabir Singh / Shahid Kapoor makes certain that you come out of the theatre a bundle of nerves.
While in college, Kabir is the leader, for the hostel girls he is the hero to be feared. The faculty dotes on him because he is brilliant in academics and also on the playground. He is funny, romantic, adventurous but uncontrollable when angry. The faculty has suspended him on misconduct many times but Kabir prides in being dangerously aggressive, being unpredictable and obsessive to a point of self-destruction. It is love on first sight with junior Preeti and over the seasons as love turns into obsession, Kabir transforms into new age Devdas!
Post interval as the background score turns lethal we witness a devastated Kabir transform into a monster preoccupied with everything destructive like smoking/ drinking/ drugging/womanizing. Now violence is a way of life with Kabir. The merits of the film are the well etched out characters, the individualistic music and the refreshing romance devoid of dialogues or song and dance. The demerits are the length- it is a full 3-hour melodrama, the fluctuating pace and the overdose of negativity which after a point becomes nauseating. I have serious concerns with the sensibility of the film: Considering Kabir has had a seemingly normal upbringing without any deprivations why is he such a freak?  The Dean at the college is aware that Kabir suffers from serious anger management but never recommends him to a counselor, why; would that not be more effective than suspension??
Which Medical Hostel allows girl and boy students to openly live together or better still, which hospital allows disheveled, obnoxious surgeons on the job? What kind of a girl is Preeti who falls in love with her oppressor, how can she want to be with somebody who isolates her from everybody? How can she submit herself so easily to a stranger so it is all about sex is it? Kabir is obsessive about his pet and addresses her as Preeti and in the later story when Kabir is embroiled in bigger complexities nobody seems to care about why the pet has gone missing including Kabir, strange! Parents of Kabir and Preeti have unnatural reactions to ordinary moments. I mean who behaves in this manner with their children today???
Kabir Singh is convincing as a love story but definitely not as a slice of life story even though the lead performances are very realistic.
Kiara Advani is fragile and sensitive and Shahid Kapoor as always first rate. The actor proves that he can mould into any character from the emperor in Padmavat to the singer in Uddta Punjab and now a drug addict doctor Kapoor is once again on top of the game.
Kabir Singh is misogynist, sexist, exceedingly violent and neurotic so it is up to you who do you want to watch the film with. I rate Kabir Singh with 2.5 stars.
Bhawana Somaaya/ @bhawanasomaaya