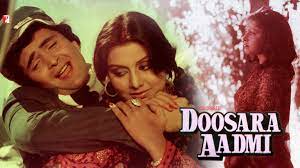 The film was Doosra Aadmi and Rishi Kapoor- Neetu Singh confirmed in the lead pair. For the 'other older woman' Talwar's original choice was Sharmila Tagore in sunglasses and short hair but when Raakhee (already doing Kabhi Kabhie) learnt about the exciting role, she dressed up in the same look and convinced Talwar to change his mind. He did.
The first screening of Doosra Aadmi was exclusively for Yash Chopra and Chopra took Talwar for dinner post the show, lavished him with praise and requested for just one change. He asked him to delete the last scene, where Raakhee looks into the mirror and breaks down! Chopra said the depressing climax will not be accepted by the audience but Talwar obsessed with his creation, refused to relent.
Chopra could have had his way as a producer, instead, he let Talwar have his way and when the film was released, as predicted by Yash Chopra, Doosra Aadmi bombed at the box-office.
To be continued