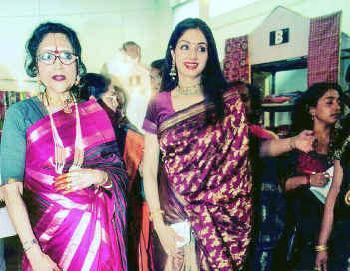 Two prominent actresses of Hindi cinema are born on 13 August, one in 1936/ Vyajantimala and the second in 1963/ Sridevi. Both are from Tamil Nadu and started their career in South movies. Vyajantimala began dancing as a little girl and Sridevi as a child actor in films. Both shifted base from Madras to Bombay and for both success came after a lot of hard work.
Indian cinema functions by unwritten rules and one of them is that the number one heroine must be a talented performer and a dancer and this has proved true in the case of both Vyjantimala and Sridevi. Despite a gap of almost thirty years between the two dancers, their career traveled almost identical terrain.
In 1954 Vyajantimala starred in Nagin where she dances to a 'been' played by Kalyanji Shah, the song was 'Man dole mera tan dole' and the film and the song proved a big hit. Almost 30 years later Sridevi in a similar title film Nagina played an icchadhaari snake and danced to 'Main teri dushman' and this film too proved a super success.
To be continued
@bhawanasomaaya