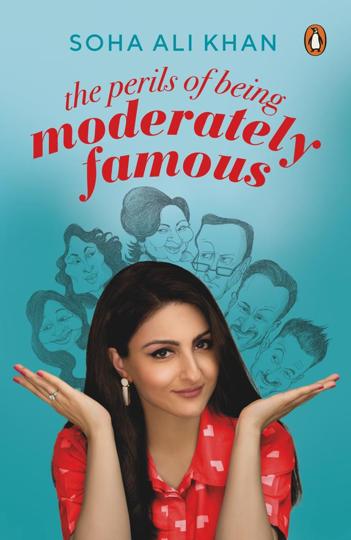 The other evening some of us were invited to the debut book release of Soha Ali Khan. It was a windy night at Taj Lands End in Mumbai and a rare occasion to find all the Khans and spouses assembled under one roof. The security guards escorted matriarch Sharmila Tagore and her children Saif, Saba and Soha Ali Khan along with Kareena Kapoor and Kunal Khemu to their respective seats.
A few moments later the famous family was invited on stage and all of them narrated interesting anecdotes related to Sohal Ali Khan. Sharmila Tagore recalled that Soha as a little wanted to know who her brother would get married to and whether her bhabhi would be a princess.  Brother Saif Ali Khan said it was when Soha came visiting him during her holidays that she had a change of heart to quit her job as a banker and join films.  Sister Saba Ali Khan said though Soha was the youngest in the family she was the wisest. Kareena Kapoor confessed that while nobody can diminish her confidence she feels intimidated by Soha's natural intelligence. Husband Kunal Khemu echoed Kareena's sentiments and added that he was still figuring out what Soha liked in him.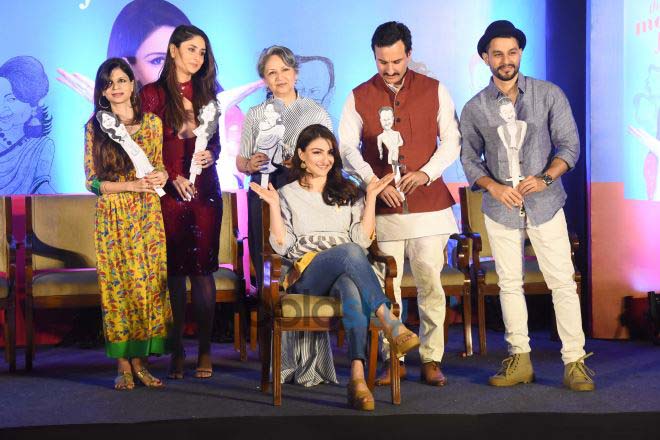 It was evident from all on stage that even though the film fraternity has not discovered as yet, Soha Ali Khan is special. Then Soha read passages of her delightful book and everyone in the audience was riveted. I sat up the next day and read up Sohal Ali Khan's book and agree with the family why she is so special.  For those of you who were not present at the book launch or who will not read the book here is my review to tempt you to buy the book.
First and foremost you have to be an extremely confident person to address yourself as Moderately Famous and when you read princess turned banker/ turned actor's memoirs, you discover Soha Ali Khan is not just super confident but an amazingly courageous, brutally honest and deliciously funny person who is consistently thoughtful and naturally bright in all that she chooses to pursue – a trek, a job, a role and now motherhood.
Reared in a royal family Soha went to Oxford University while still a teenager and learned to fend for herself, she survived difficult climates, conditions, and people and learned very early in life to live and let live without judgments. She embraced adventure, courted challenges and in the process discovered her strengths and weaknesses.
From a princess to a migrant and a banker to an actor, Soha Ali Khan narrates her journey, both personal and professional with alarming honesty. There are intimate passages about her father/ Mansoor Ali Khan's accident and later demise, her brother/ Saif Ali Khan's second marriage and her own attraction for her husband Kunal Khemu and she recounts them with sparkling insights, her ability to laugh at herself in the oddest circumstances, her keen observations and her skill to recap the seemingly mundane moments in glorious imageries with exact conversations is what makes this book so precious.
As an actor, she hasn't got her due from Bollywood but as a writer, Khan is a natural and has a way with words and emotions without being even slightly dramatic. She reports on tragedies and the comedies of her life in the same tone and forever looking inward. The book is more than an actor's collection of personal essays, it is erudite, introspective and a social comment on youth and conditioning irrespective of workspace, marriage or parenting.
I finished reading Moderately Famous in a day and I guarantee you will not be able to put it down either. It is difficult to believe this is Soha Ali Khan's debut book and I will never forgive her if this is her last book.
Bhawana Somaaya/ @bhawanasomaaya