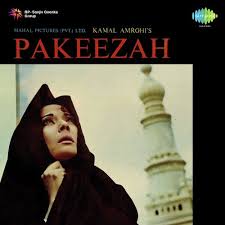 On 04 February Kamal Amrohi's Pakeezah will complete 48 years almost half a century later the film continues to haunt you and the heart searches for Sahibjaan. Looking back there were many reasons for this film to become a classic.
Tradition v/s Passion: The storyopens on the dance floor and in between a flickering orange flame and a red chandelier looming large into the frame, a dancer swirls in a flowing dress as the narrator in chaste Urdu recounts the story of courtesan Nargis/ Meena Kumari, who makes the tactical error of falling in love with her client Shahabudin/ Ashok Kumar who rescues Nargis from the kotha but his family will not accept her. Meena Kumari flees to a graveyard in anguish and dies heartbroken after giving birth to a baby girl and Ashok Kumar remains single searching for his Sahibjaan.
In the coming days I will be sharing fascinating details about  an exotic film made by a husband/ Kamal Amtohi for his wife Meena Kumari.  King Shah Jahan made a Taj Mahal for his begum Mumtaz and Kamal Amrohi made Pakeezah for his Mahajabeen whom he called Manju.
To be continued…
@bhawanasomaaya