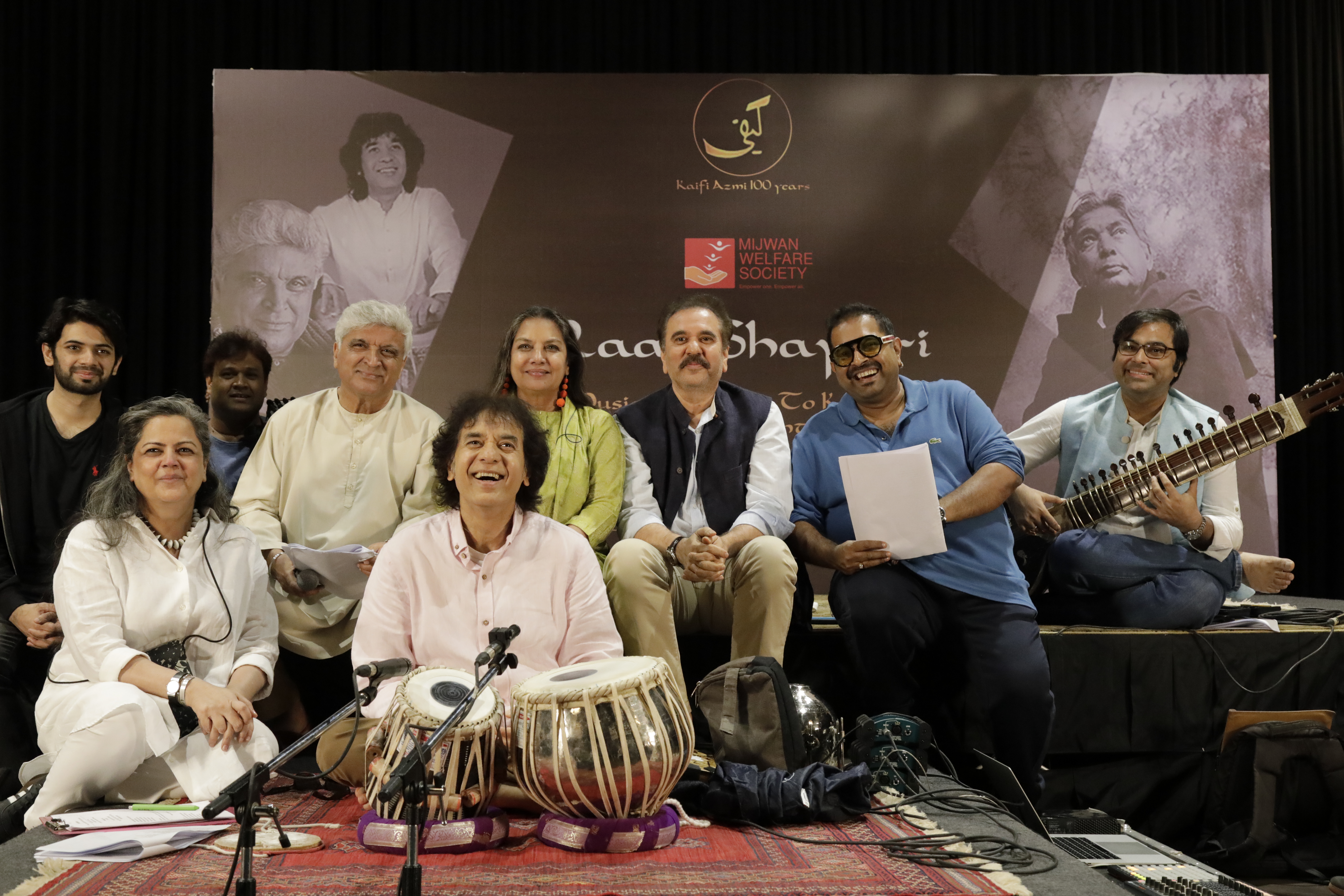 I had the opportunity to interact with all the performing artistes at the rehearsal and this is what they had to say about the forthcoming event. "We were toying with many ideas about what to do and finally came up with this classic idea that everyone seemed to agree. It was difficult but then nothing precious has ever been easy" starts Shabana Azmi. She elaborates that will be an evening of archival value because Shankar Mahadevan will sing a selection of her father Kaifi Azmi's poems. "Javed Akhtar will recite the poems in Urdu and I will recite the English translations. There is more, Ustad Zakir Hussain will interpret the same on the tabla so the idea is quite unique.
Javed Akhtar adds that the idea is to celebrate Kaifi sahab's poetry and its essence and to showcase that Kaifi sahab's writing transcends boundaries of language and medium." Director Feroz Abbas Khan who has directed Azmi on stage for Tumhari Amrita says this was a new experience and a new challenge for me as a director.  Usually, it is either poetry or music presentation but this includes words – melody, and rhythm that too with acclaimed names. The challenge was in interpreting that single thought in the entire performance. The show celebrates the universality and timeless quality of Kaifi Saheb's poetry".
There is nervous energy, an excitement in the atmosphere as the artistes take a break to relish tea. The countdown has begun and all of them are visibly anxious. Ustad Zakir Hussain says, "This is I think one of the first times something like this is going to happen. Through words and rhythm, we are paying tribute to not just a great artist but also a human being." Shankar Mahadevan joins Zakir Hussain and adds, "Kaifi Azmi was not just a poet and lyricist but also an activist – he was a multifaceted and therefore the multifaceted presentation.''
Kaifi Azmi centenary will be celebrated with mushairas, plays, seminars, a pen festival, and three book releases. It all sounds very special because children pay tribute to parents they make it all the more special.
@bhawanasomaaya